Men's rugby team rejoins Division I-A, aims for national success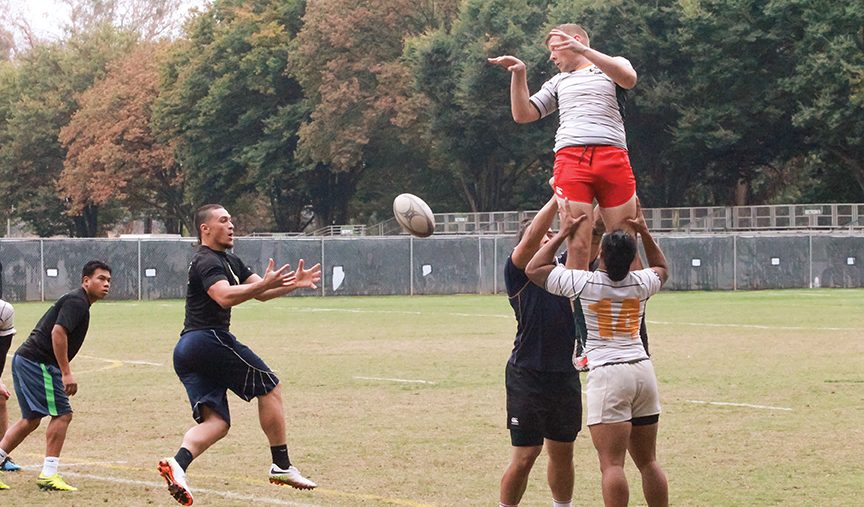 The Sacramento State men's rugby team has high expectations as it aims to finish top 20 in the nation after rejoining Division I-A with five other California universities in 2016.
"We have a lot of new guys that have experience, which is really new and different for our club," Sac State men's rugby team captain Nick Weeder said. "Even the new guys that are coming out for the first time have a lot of potential."
Since 2014, the team has played in the Division I-AA Pacific West Conference. But after a successful two seasons, the Hornets will return to the Division I-A California Conference with five other teams including UC Santa Barbara, Santa Clara, Cal Poly, Saint Mary's, and San Diego State.
With two hour practices twice a week on the Sports Clubs Field and individual workouts, these ruggers focus not just on strength but coordination.
"We work on a lot of fundamentals," Weeder said. "It's tedious and boring at times, but if we don't focus on things like passing and working the ball, it shows in a game."
For those who are unfamiliar with the sport, rugby club President Blake Nicholas describes it is as fast paced soccer "but with the physicality of football."
Although it is a combination of the two, rugby has other differences which make it unique in itself. The ball can only be passed laterally or backwards, and players wear no protective gear other than a scrum cap and their mouthguard.
"The tackling is actually safer (than football)," Weeder said. "People think it's not because we have no pads. But when you tackle somebody, it's continuous play, there's no stoppage — even if there's injury the play keeps going."
Nicholas, a junior and third-year rugger, also identified his sport as one of respect and sportsmanship.
"When you come out on the field, we treat everyone the same," Nicholas said. "Our goal is to teach everyone how to play the sport and we kind of see ourselves as a family working to the same goal to win and succeed in our practices."
Nicholas and Weeder, in his fifth year, are not the only ones to see their rugby careers as the best part of college. Alumnus Travis Haugen, who played six years for Sac State, described his career with the Hornets as unforgettable.
"If it weren't for rugby, I don't think I would've stuck with college," Haugen said. "When I think about college I think that sure, I learned some things and had a good time. But this team and these people were the best experience."
Rugby club head coach Adam McRae, in his eighth season with the team, believes that this year's team will be able to meet its goals and bring a name to Sac State sports clubs.
"They show up, work hard, and they master their craft," McRae said. "I would tell (anyone who is new to the sport) to come out and watch a game if they want to see a Hornet football team win."
The Hornet ruggers will take on rival UC Davis on Nov. 19 on the Sports Clubs Field at 1 p.m.
"Davis is always a big competition and last year they were national champions," Weeder said. "The cool thing about rugby is no matter what the rankings say, every team is a good team. We haven't beaten them for a while, but our team is hungry for the win."