Johnson has career night in blowout win over Stanislaus State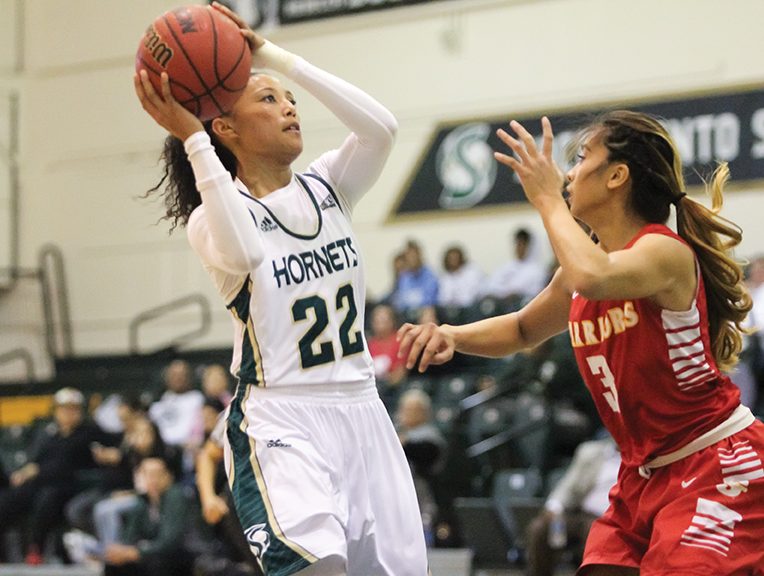 For the majority of Tuesday's Stanislaus State-Sacramento State women's basketball game, Maranne Johnson looked like King Midas on the court because every time she touched the ball, it went in.
Johnson, a junior guard, scored a career-high 37 points, and redshirt senior guard Emily Easom had a season-high 25 points in the Hornets' 102-72 win over NCAA Div. II Stanislaus State. Johnson, coming into the game leading the team in scoring (13.7 ppg), ended the night with the ninth-highest single game point total in program history, and finished eight points behind the all-time leader, Kristy Ryan (who scored 45 against UC Irvine in 1993). Between Easom and Johnson, the pair broke the program's single-game record for points by two players combined with 72.
Easom, who made six 3-pointers, shrugged off the idea that it was an easy night, instead crediting the overall team attitude.
"I don't want to say it was easy at all," Easom said. "We came in prepared; we knew we had to handle business and that's exactly what we did."
In the first-ever matchup of the two teams, the two came in as polar opposites: whereas Stanislaus State (2-6) is averaging 59.4 points a game, Sac State (3-4) came in averaging nearly 90, only scoring less than 80 in a game twice this season.
The first quarter started off as a quick back-and-forth affair between the Hornets and the Warriors, with both teams trading off early leads. An Ana Burch layup gave Stanislaus State a 4-3 lead at the 8:41 mark, the only lead they held the entire game. A Johnson 3-pointer put Sac State back on top, and the team then went on a 20-10 run to end the quarter. The Hornets finished the quarter 26-14.
As the second quarter began, the Warriors came out ready to play. Two straight baskets from Cassidy Sanders-Curry brought Stanislaus State within eight, but sophomore guard Raegan Rohn put that streak to rest with her first 3-pointer to put Sac State back up by double digits. Rohn, who tied her career-high with 13 points, said her improved game play was a result of getting more reps during the offseason.
"Last year I was a freshman, everything was new," Rohn said. "I did my best to learn a lot, got more acclimated to the system and worked on making my shot more consistent."
Johnson scored another 16 points in the quarter to give her 27 first-half points, and Sac State went into halftime with a 55-30 lead.
The opening bell for the third quarter couldn't have come soon enough, as the Hornets started getting hot from beyond the arc. Six different Hornets made a 3-pointer in the quarter, as the team scored 30 points in the third. Even with Stanislaus State scoring 31 points, it wasn't enough to catch up, as they were down 85-61 going into the final frame.
With a fairly commanding lead going into the fourth quarter, Sac State looked to seal the deal once and for all. Johnson's eighth 3-pointer of the game put the Hornets up by 30 with 5:48 to go, which was then punctuated by a pair of free throws from juniors Dahjae Mullins and Alexia Mefi. Although the Hornets didn't make a field goal in the last five minutes of the game, the team still managed to eclipse the century mark for the first time this season.
Both Sac State and Stanislaus State had four players score in double figures, though Johnson's total was nearly three times that of the Warriors' leading scorers (13). The Hornets also had their best free-throw shooting night of the season, going 17-of-20 (85 percent) from the line. Tuesday night's game was also important for a bigger reason: Brianna Burgos, the team's leading 3-point shooter from last season, made her season debut after missing the last nine months due to a knee injury.
Head coach Bunky Harkleroad, while more than satisfied with the total team effort on Tuesday, was already looking forward to Saturday's matchup against Pac-12 opponent USC; a team that features five players that are 6'3" or taller (Sac State only has two players taller than 6'0").
"We're looking forward to playing them, don't get me wrong," Harkleroad said. "But we have to be ready to play at a much higher level. We're not just gonna be taller; we have to take extra care of the ball because of their added length, and we have to do a good job boxing out."
Saturday's game will serve as the second game of a doubleheader at the Nest, as the men's team also plays earlier in the day against UC Merced. The women's game starts at 7:35, with live coverage coming from State Hornet Sports on Twitter.