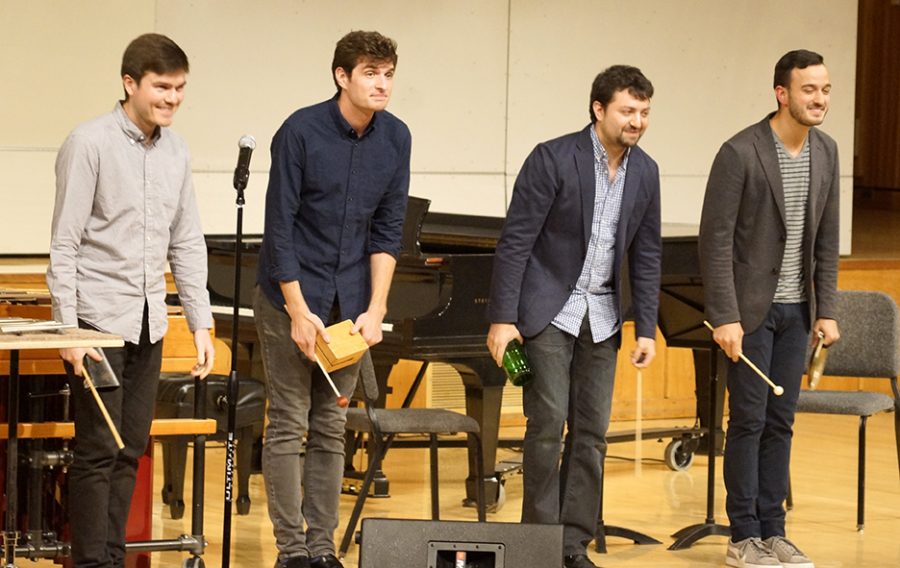 Marivel Guzman
The 39th annual Festival of New American Music officially kicked off with a gala concert on Friday night at Capistrano Hall, featuring appearances from music groups Sandbox Percussion and Earplay.
The festival's co-organizer and theory composition professor Stephen Blumberg welcomed attendees and guests with a speech before the night's lineup began hitting the stage.
Bay Area-based septet Earplay performed a piece by Shinji Eshima to open the concert. The group was formed 32 years ago by clarinet Peter Josheff. Other members include flutist Tod Brady, cellist Thalia Moore and violinists Terrie Baune and Ellen Ruth Rose.
"The whole process to have been playing for so long with the same people makes the whole thing more enriching," Rose said. "We have been playing so long together that we are a family."
Following Earplay at the concert was electric bassoonist Paul Hanson, who performed a series of compositions such as "Emerald Mile" and "Petulant Overcast."
Sac State trio TriMusica, which is consisted of clarinetist Sandra McPherson, pianist John Cozza and UC Davis' cellist Susan Lamb Cook, performed Blumberg's composition, "Aura."
The closing performance of the concert was from the percussion quartet, Sandbox Percussion, hailing from Brooklyn, N.Y.
The group started its presentation with "Haiku No. 3" by Andy Akiho and ended with "Sonata," a piece composed by member Jonny Allen.