Dia de los Muertos celebration brings out diversity on campus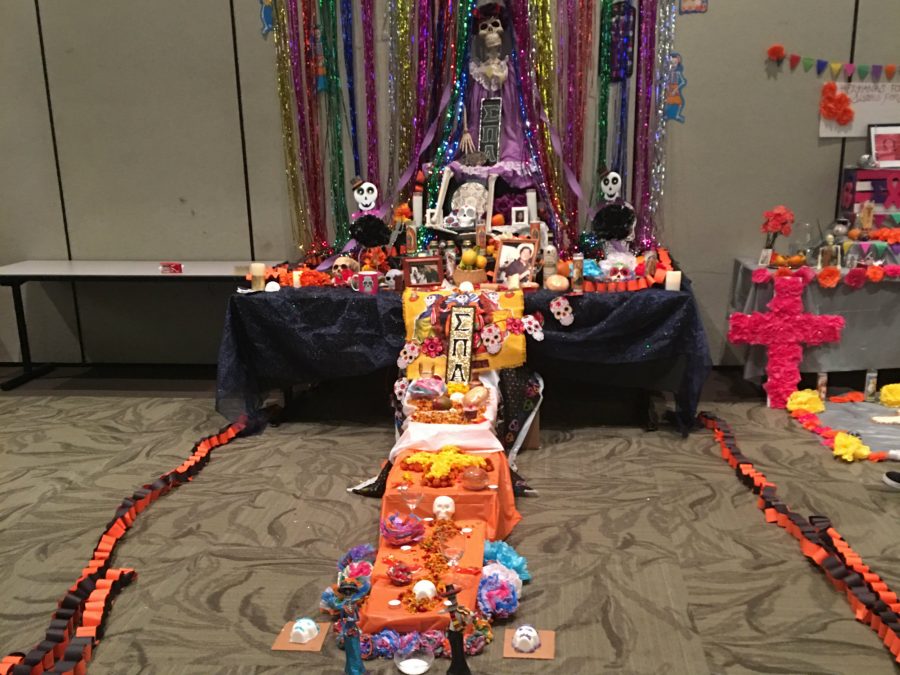 On Wednesday evening, the University Union Ballroom was filled with many people as they gathered for the 12th annual Dia de los Muertos celebration, hosted by the women of Sigma Pi Alpha.
Dia de los Muertos, which translates to Day of the Dead, is a Mexican holiday celebrated every first and second of November. It is an event that pays tribute and respects in remembrance of friends and family members who have passed away.
Ana Cristina Mendoza, president of Sigma Pi Alpha, said that Dia de los Muertos is one of the biggest events her sorority puts together every year.
"It's an opportunity for different organizations to come and make their altars and decorate them however they'd like," Mendoza said. "They can incorporate things that are important to them or put pictures of loved ones who have passed away."
At the event, altars entered a competition in which a panel of three judges looked for specific criteria in each piece. First place was awarded to the fraternity Nu Alpha Kappa, followed by Mujeres Ayudando la Raza for second.
Other activities were also available for attendees of all ages like the traditional calavera (sugar skull) decoration and face painting. Chocolate caliente (hot chocolate) and pan dulce (sweet bread) were also handed out throughout the evening.
Freshman pre-nursing major Bibiana Ortiz said she noticed the event drew attendees of all races and ethnicities.
"Being that Sac State is so multicultural, it's nice to see all the cultures come together," Ortiz said.
This event was filled with different live entertainment that characterizes the Mexican culture. The first presentation was that of Gladys Gonzalez singing "Amor Eterno," which is a classic Mexican song. Her daughter Gladys Gonzalez Guzman, a Sac State alum and member of Sigma Pi Alpha, joined her on stage to perform a duet.
During the latter part of the event, students of the Language Academy of Sacramento performed the bailes folkoricos dance while Aztec dancers and traditional Mexican band's energetic tunes brought attendees to fill the dance floor.