Women's soccer clinches playoff spot after 1-0 win
The Sacramento State women's soccer team has clinched a playoff spot and holds a first-place tie in Big Sky conference standings after a 1-0 victory over Weber State on Friday.
"Any time you can get a win in conference it's hard fought," Sac State head coach Randy Dedini said. "We're happy to get into the tournament, and we'll take it any way we can get it."
Sac State senior forward Adaurie Dayak broke a scoreless tie in the 83rd minute to give the Hornets a win in its final home match of the season — the last game at Hornet Field for Dayak and the team's 10 other seniors. Sac State has now extended its winning streak to four games.
"All day I was thinking, 'this is my last time I'm going to be on this field (and) the last chance I'm going to be able to score in front of all my fans and all my family," Dayak said. "This game was so important to me."
Sac State (7-6-4, 5-2-2 Big Sky) dominated Weber State (5-9-2, 3-5-1 Big Sky) in the first half, outshooting the Wildcats 9-1. The Wildcats played a comparatively young roster, with one senior and five true freshmen in the starting lineup.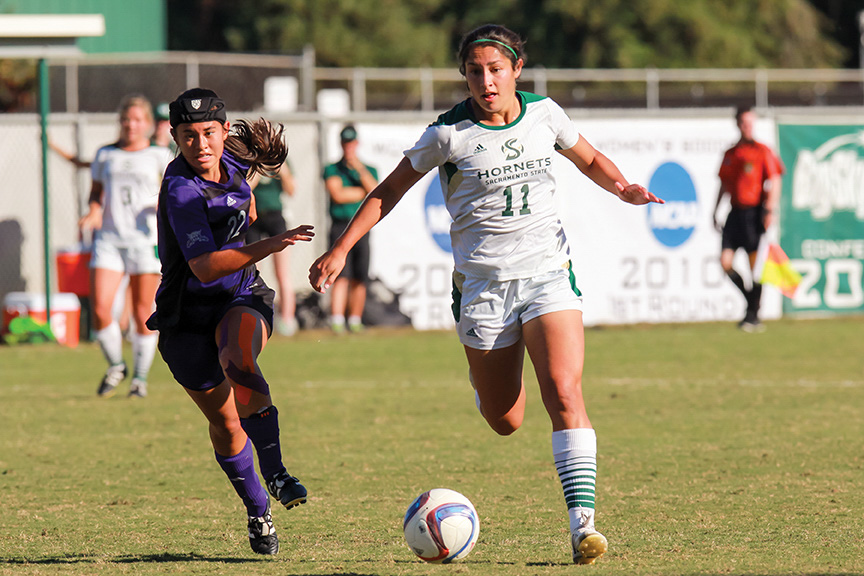 Weber State rebounded in the second half by taking only one shot less than Sac State — forcing more scoring opportunities, maintaining longer possessions and holding the Hornets to one shot on goal.
"We just came out with a different attitude, maybe cooled down a little bit, nothing more than just changing their perspective," Weber State head coach Tim Crompton said. "Had (we) played the full game like that maybe the outcome might have been different."
Both teams failed to capitalize on penalty kick opportunities in the second half. Sac State made an attempt in the 50th minute and fouled Weber State in the 62nd minute, but Hornet freshman goalkeeper Kaylyn Evans made a save in her first start in place of injured Destiny Butcher.
Dayak delivered the only scoring shot of Sac State's 14 total attempts with six minutes remaining in regulation after fielding a pass from junior defender Chelsea Arnold and beating Weber State junior goalkeeper Sydnie Brough, who vacated the net after a diving save attempt.
"All I was thinking was, 'don't miss, don't kick it over,'" Dayak said. "Once I saw the ball come to my feet I just let all my blood just rush to my feet and just let (them) do the work — I didn't think about it, I just took the shot and went right in the goal."
As the rest of the Big Sky conference play games on Sunday, a loss from Idaho could put Sac State in position to clinch the regular season conference title and earn home field advantage in the conference tournament.
The Hornets will play its final regular-season match against Portland State at Hillsboro Stadium on Oct. 28 at 1 p.m.