School of Music showcases second MOSAIC gala concert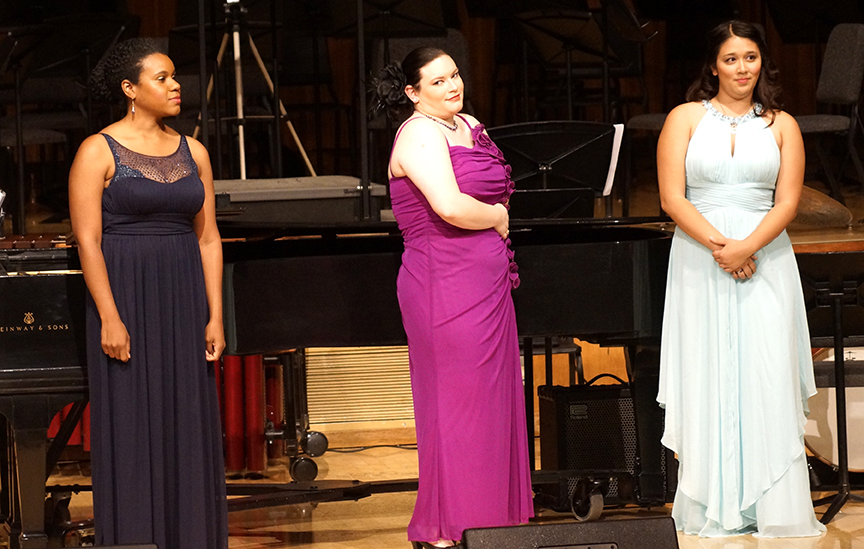 The MOSAIC: School of Music Gala Concert at Capistrano Hall on Sunday night showcased musical talents of Sacramento State students with performances ranging from jazz to opera.
In addition, the concert featured the campus men's chorus, the Symphonic Wind Ensemble and recent Monterey Jazz Festival performers from C-Sus Voices.
Opera professor Omari Tau served as the master of ceremonies of the event and he said that the concert was a great way to kick start the music department's concert season.
"President Nelsen's help is invaluable," Tau said. "Without him, the concert wouldn't have been possible."
The show featured music majors Susan Levine, Rayanna Yonan, Luis Cruz and Madison Armstrong performing Sean Osborn's "Clarinet Quartet No. 1."
The audience was treated to three soprano voices of music majors Elise Savoy, Nicole James and Paige Kelly, who were accompanied by John Cozza on piano while performing "Le Faccio Un Inchino" from the opera "Il Matrimonio Segreto" —or The Secret Marriage— of Italian composer Domenico Cimarosa.
The concert closed with a presentation of Sac State's own Symphonic Wind Ensemble. The performance was directed by Clay Redfield and Gerald Willis.  
Redfield is a professor of bands and music education also director of the Sac State marching band.

Professor Redfield, who has been at Sac State nine years, got his Masters at the University of Nevada.
Willis said this is his first year at Sac State. "I'm a lecturer and marching band's director as well," he said
Sac State's own Symphonic Wind Ensemble closed out the concert and the entire evening concluded with a luncheon outside Capistrano Hall.