Sac State professor now a U.S. Rugby Hall of Famer
When Steve Gray first heard about rugby in college, he thought it was played with sticks.
Years later, the Sacramento State recreation, parks and tourism administration professor is now a member of the U.S. Rugby Hall of Fame.
In 1969, Gray was a business major attending the University of Arizona on a golf scholarship. After struggling to find his stroke in the hypercompetitive collegiate environment, Gray decided to join the school's new rugby club upon seeing an advertisement in the school newspaper.   
"It was the first year they ever had a program, and we didn't even have a coach so all we did was play," Gray said. "It was just so much fun because you didn't have a coach telling you what to do. You just stayed on the field the whole time."
In 1976, Gray was named captain of first USA Eagles 15s (a 15-player team), which competed in England. In 1980, Gray captained the first Eagles 7s team to travel to Hong Kong, where they played a tournament with teams from across the globe before a crowd of 50,000 people.  
"They had an opening ceremony where all the different countries would walk around, sort of like a mini-Olympics, so for us it was really fun," Gray said. "We all stayed in the same hotel, so you get to see Samoans and Fijians and (the) French and Italians, but they all played rugby, so it was just a great experience."
Gray decided to facilitate his frequent travels playing rugby by attending UCLA, where he would earn his second degree while playing for both the Bruins and the Los Angeles Rugby Club. In 1981, he earned a Ph.D. in Recreation Administration from the University of Southern California.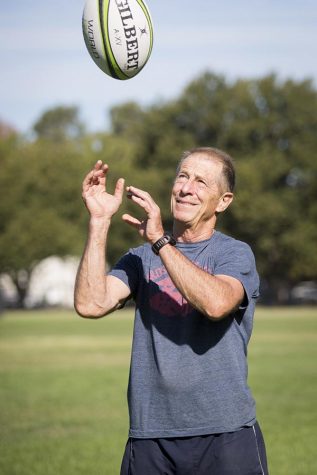 In 1985, after teaching at the University of Miami, Gray and his wife Jackie returned to California when Gray secured a job teaching recreation and coaching rugby at San Diego State. Two years later, Gray coached the Aztecs to a National 15s Championship and to this day recalls his time in San Diego as one his best coaching experiences.
"The guys there were just really great," Gray said. "Having (them all) come together and (winning) meant a lot. I still see those guys all the time, five or six of them live here in Sacramento (today)."
In 1987, Gray accepted a teaching position at Sac State. Since then, Gray and his family have established close ties in Sacramento and Davis.
"One of my sons played all four years at Davis, so I ended up coaching them for about eight years on and off," Gray said. "I feel a little guilty about that, but I always told the Davis players they had to respect Sac State because that's who paid my bills."
In 2015, Davis won the Division II National Championship, with Gray working as the team's coach coordinator.
During this time, Gray worked alongside his former U.S. national teammate Mike Purcell, who still coaches for the Aggies today. Purcell was inducted to the U.S. Rugby Hall of Fame in 2015, and fondly recalls his time playing with Gray.
"(He was) just such a dynamic player," Purcell said. "He'd always take chances and try to throw a long pass or make a dangerous kick. He was golden — everybody loved him and he was a lot of fun to be around."
Since retiring from playing rugby, Gray has become a certified CrossFit coach, has trained Olympic players, and continually trains and certifies new coaches with USA Rugby.
"I want the game to spread," Gray said. "It's more than just playing a game … we try to enable our players make their own decisions, set their own goals, and (other) things (that are) really important in life, as opposed to a coach telling them what to do. I wouldn't have stayed with it this long if I didn't think it had a lot of really good life lessons."
Through his time at Sac State, Gray has kindled a passion for teaching students both on the field and in the classroom.
"I really enjoy my classes and my teaching," Gray said. "It's interesting having coached at UC Davis, (and) I've loved all the students there, but to me this is a much richer learning environment. We have much more diversity (and) it's more like the real world, so I love being with the students…I learn stuff every semester."
While he only coached the Hornets during his son's time at Sac State, Gray has served as the club's faculty advisor for many years. Junior Kristina Johnson, who is the president of Sac State's women's rugby club, says the club benefits from his knowledge.
"He's been a big mentor to us," Johnson said. "He's played many years and put in a lot of time and he's been really dedicated. It shows in his passion, and he just continues to love (the game), and that's why I think he got in the Hall of Fame."