Marching band mixes music, community at Sac State
Marching band is referred to as a class, sport, hobby, and an art form, but to the nearly 200 students who play and perform for Sacramento State, band is family.
The musicians and performers enjoy the perk of priority registration, but for many, like junior color guard member and chemistry major Ashley Fagundes, the greatest appeal of marching band is the community.
"You get a lot of lifetime friends out of it," Fagundes said. "You spend so much time with these people that you really bond with them. Nobody's excluded from anything (so) it's a lot closer as an organization than other places."
For two units of credit, students of various majors, ages and instruments spend nine hours a week in class practicing and rehearsing material, plus another 12 hours most Saturdays during October for home football games and off-campus performances.
The student-conducted band is comprised of sections relative to instrument types, from woodwind instruments, to brass, percussion and color guard — which adds another visual component to the show by dancing and twirling flags, sabers, and wooden rifle props. New members can join the band without auditioning, and are instead placed in their sections based on ability.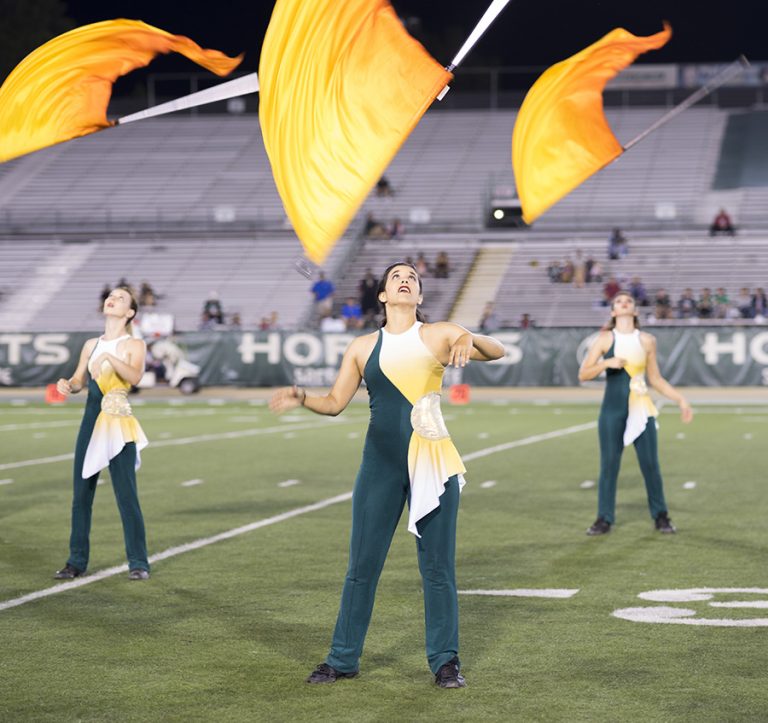 Band co-director Dr. Clay Redfield, who met his wife playing in Sac State's marching band in the 1980s, aims to challenge his students to excel musically in a close-knit environment.
"We try to build a community that's based on respect and working hard together, but we like to enjoy each other's company and have a good time," Redfield said. "We take the music really seriously but we don't take ourselves that seriously."
In addition to the time commitment, marching band can be physically demanding. Color guard spends most performances running and dancing up and down the field, and musicians spend hours on their feet carrying instruments weighing up to 40 pounds.
"Marching band is a lot more athletic than people give it credit for," Fagundes said.
Woodwind section-leader Kimberlyn Koford, who majors in child development and dance, says the artificial turf in Hornet Stadium can add 10 to 15 degrees to the existing temperature, making the band's heavy uniforms even less breathable. Despite the heat, she enjoys the games' atmosphere.
"I'm excited to be a part of an organization that cheers on our team and gets the crowd excited," Koford said. "We play during any down time in the game. I have some friends who are football players on the team, (and) some of the Hornet Girlz are also friends of mine, and they said (the music) we play they really enjoy, and it gets them pumped."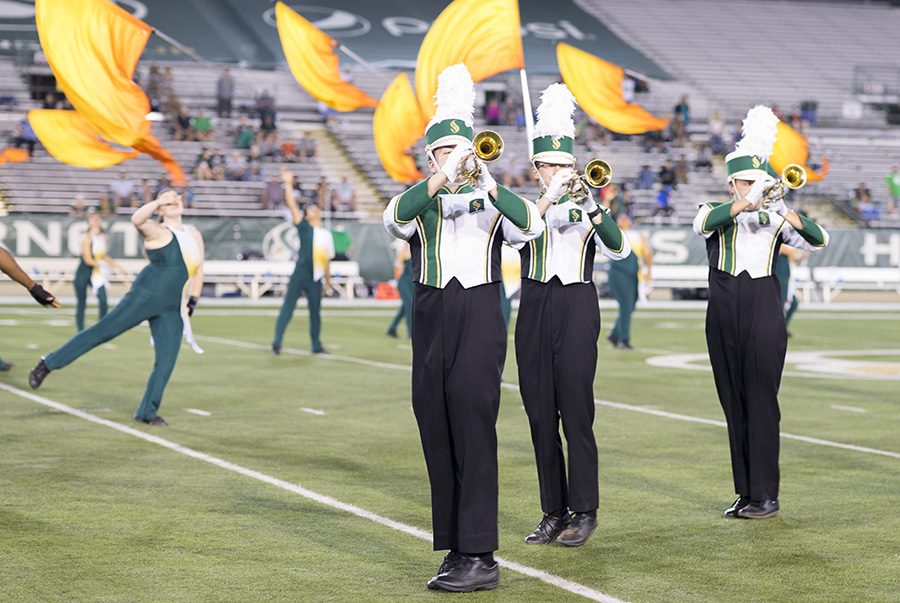 Off the field, one of the season's highlights for the band is the annual trip to the Santa Cruz Beach Boardwalk Band Review, a parade and competition for high school bands across Northern California. Sac State uses the event to support local music programs and recruit high school musicians.
"The high schoolers get so excited to see us," Koford said. "We've had kids who saw our busses coming through the gate, and got all excited and were yelling, 'Sac State's here!' It kind of makes you feel like a celebrity."
Though Sac State's marching band may not receive the same recognition allotted to some Division I universities, Redfield says the band marches to the beat of its own drum.
"We don't worry too much about what other programs are doing," Redfield said. "We really just work on trying to get the very best product we can (and) hope that's as close to state-of-the-art as we can make it. We challenge our students to really think of what can they do to benefit the program, (which) comes back to that family philosophy."