Hornets look to rebound from heartbreaking end to 2015-16 season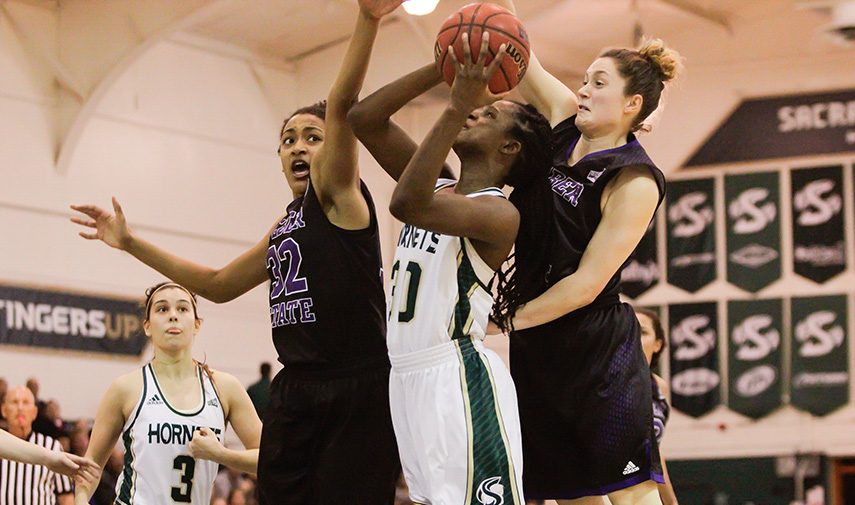 For the Sacramento State women's basketball team, 2016-17 is a redeeming type of season.
The team was picked to finish seventh in the preseason Big Sky media poll a year after being picked to finish third, and after a 2015-16 season where its campaign ended in heartbreaking fashion to Eastern Washington in the Big Sky Tournament. Now, the team is looking to make a big splash in the 2016-17 season.
Senior guard Ashlyn Crenshaw, who didn't travel to the tournament due to injury, says that particular game has had a lot of impact on how the team is preparing for this upcoming season.
"That game actually has been haunting us for a while," Crenshaw said. "Three points is literally nothing, so to have our season ended by that … I feel like if we would've won that game we would've went all the way. So just (go forward) with a different mindset, (and) we have a really good group of girls, especially the freshmen coming in and the transfers — it's going to help us in a really big way."
This year's squad — composed of six seniors and five juniors — is the most experienced team that head coach Bunky Harkleroad has ever coached in his four-year tenure at Sac State. Despite losing five players from last season's team, including first-team all-Big Sky selection Adella Randle-El (who led the team in scoring, rebounding, assists and steals) the team still has a lot of depth with 17 players. Of those 17 players, 16 will see playing time (Hannah Friend, a transfer from Delaware, must redshirt for the 2016-17 season due to NCAA transfer rules).
Fellow senior forward Kyhonta Doughty has seen her fair share of the new recruits, and from what she's seen, the new players on the team (Friend, Alexia Mefi, Dajhae Mullins, Kennedy Nicholas, Quayonna Harris and Tiara Scott) are making quite the impact.
"I think they're doing a lot better than they expected to do themselves," Doughty said. "With the veterans we have, we're guiding them along and helping them understand what's expected. The coaches have been really patient in helping them adapt to the way that we play."
The style of play that Doughty is talking about is coach Harkleroad's version of "The System," a style that sees multiple substitutions, a lot of shooting and an emphasis on offensive rebounding and second-chance points. It's a style that has worked wonders for Sac State since his arrival, and last season was no different; the team led all of NCAA Division I in three-pointers made (386) and steals per game (14.9) for the third season in a row, while also leading in offensive rebounds per game (20) and turnovers forced per game (24.16).
The team also finished second in scoring per game to the NCAA Div. I champion Connecticut Huskies (87.5) and broke the single-game record for most three-pointers in a game with 25 (which they accomplished twice).
Doughty believes that this year's team can actually eclipse last season's point total, estimating that they have the capability to score 100 points a game.
"We have some really good shooters out there, people who aren't afraid to attack the basket," Doughty said. "I think we'll get up there."
Highlighting the group of shooters will be senior guard Brianna Burgos and junior guard Maranne Johnson. Burgos, the lone Hornet named to the preseason all-Big Sky women's basketball team, led the Big Sky in three-pointers made per game (3.19, eighth in NCAA Div. I) while also setting a school single-season record with 86 made three-pointers. She also broke the program record for most points scored in a conference game, torching Montana State with a career-high 34 points on nine 3-pointers (tying the program record for most threes in a single game).
Johnson, who finished second on the team in scoring and steals last season, is also a deep threat, making the fourth-most three pointers in a single season in program history (79). In last season's Big Sky Tournament, Johnson scored a career-high 31 points against Southern Utah, making a conference tournament record seven 3-pointers.
This season will be bringing a lot of tough competition to the Hornets Nest, with possibly the toughest nonconference schedule of any team in the Big Sky. Sac State will be playing against 10 teams that made it the postseason last year, including NCAA Tournament participants New Mexico State, San Francisco and Big Sky champion Idaho. The biggest home game of the season, however, will be the Dec. 3 home game against Pac-12 opponent USC; this will be the second straight season that a Pac-12 team has visited the Nest (19th-ranked UCLA beat Sac State 109-76 last December).
Despite the level of competition, Harkleroad believes that this season's team is among the most competitive he's ever coached.
"I think there's a hunger. We have enough upper-classmen who have been here a while who are hungry," Harkleroad said. "They understand the perspective and how far we came. We lost five games by three points or less last year. There's a little more focus, a little more trust, and a little more chemistry."
Sac State will tip off its exhibition season against Holy Names on Sunday at 2:05 p.m. at the Hornets Nest.