Hornets late equalizer leads women's soccer to tie against Montana
The Sacramento State women's soccer program remains undefeated at home after tying against the University of Montana 1-1 on Friday evening.
In the team's first Big Sky conference game on Hornet Field this season, Sac State (3-4-4) expected an aggressive game, with Montana (5-4-3) leading the conference in fouls going into Friday. Whistles blew frequently throughout the match, as the Grizzlies committed 18 fouls to the Hornets' 8.
"Coming in we knew they were going to be physical (so) we just knew we needed to match that," Sac State senior defender Rachel Leonard said. "They were a little bit bigger than us so we tried to keep the ball on the ground, but I think we did a very good job winning most of the 50/50s."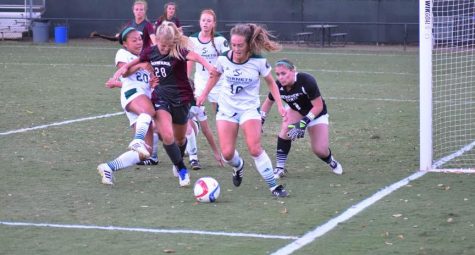 The Hornets narrowly squandered back-to-back scoring opportunities in the 18th minute when junior forward Kayla Collins' shot rang off the crossbar and junior forward Andrea Boehm's midair rebound shot was saved by diving Montana goalkeeper Kailey Norman.
After a scoreless first half, Montana quickly found the net in the 51st minute on a goal from sophomore midfielder Madison Adams. Despite obvious frustration, the Hornets remained competitive and maintained the game's rapid pace thanks to the team's endurance, Sacramento State head coach Randy Dedini said.
"Once we composed ourselves and realized that we had enough time to get that goal back I thought we had great energy," Dedini said. "We were pushing and everybody on the sideline was really positive."
The Hornets' surge paid off late in the 86th minute, when senior forward Kassidy Kellogg headed a goal on a corner kick from freshman midfielder Mikayla Reed. The tie sent Sac State into overtime for the seventh time this season.
Hornet forward Kassidy Kellogg scores in the 86'. Sac State and Montana are now tied 1-1. pic.twitter.com/HCQqGphxus

— State Hornet Sports (@SH_Sports) October 1, 2016
Montana outshot Sac State 4-2 in overtime regulation, but Hornet sophomore goalkeeper Destiny Butcher kept the Grizzlies from scoring with two saves barely minutes apart from each other.
Montana head coach Mark Plakorus expressed disappointment in the team's' inability to capitalize late in the game, but remains optimistic moving forward.
"I think we could have been a little bit more composed, as when we were in front a goal with the opportunities we did have, especially in the second overtime," Plakorus said. "Whenever you go on the road you're just trying to get some points and we gave ourselves a chance to get a win and it didn't work out that way, but I'll take a tie on the road."
Sac State women's soccer now holds a 1-0-2 Big Sky record, and will resume conference play Sunday when they host the conference leading Eastern Washington Eagles at Hornet Field.