Hornet soccer lose to defending Big Sky champions Idaho, 5-1
After allowing only 11 goals in the last 12 games, the Sacramento State women's soccer team was defeated 5-1 by the Idaho Vandals on Friday.
Despite being heavily outscored and outshot 22-14, Sac State players and coaches agreed the final outcome looked much worse than the match played, including junior forward Kayla Collins.
"I thought the score did not reflect the game," Collins said. "They got a lot of shots off on us (but) a lot of them were not very dangerous shots."
The loss marked the second straight home defeat for Sac State (3-6-4, 1-2-2 Big Sky), who played evenly with reigning conference champions Idaho (7-4-2, 4-1-0 Big Sky) through much of the game despite a clear size disadvantage.
Idaho played a physical match from the start, with seven first half fouls and a yellow card called on junior defender Josilyn Daggs in the 10th minute.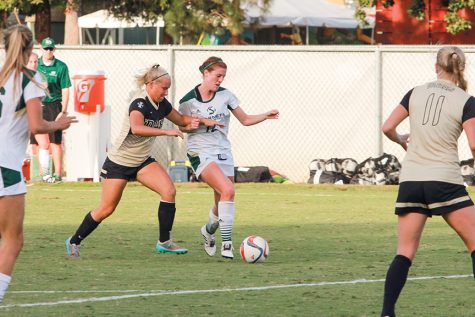 "I think it was a physical battle both ways, but I thought we matched their physicality," senior defender Rachel Leonard said after the game.
Still, Sac State found the net first when Leonard scored in the 15th minute on a free kick that rolled through the legs of Idaho senior goalkeeper Torell Stewart.
The Vandals came back to lead 2-1 at the half after senior midfielder Clara Gomez scored a pair of goals in seven minutes. The Hornets saw a number of scoring opportunities but failed to tie the game.
Minutes before halftime, senior forward Adaurie Dayak frustratingly buried her face in her jersey after a shot bounced off the post and her open rebound kick sailed clear over the goal.
Idaho freshman midfielder Emma Eddy completed a hat trick in the second half, scoring two of her three goals in the game's final minutes, including a soaring goal over the head of sophomore goalkeeper Destiny Butcher with 14 seconds remaining in regulation.
Though the Hornets have won only one game since the start of September, the team remains confident in their ability to earn more wins and a place in the Big Sky Conference Tournament.
"We're (still) probably the strongest defensive team in the conference," head coach Randy Dedini said. "We've just got to do a better job of finishing our chances and limiting our mistakes, but I love this team and I believe we will pull out of this."
Sac State will play one more home game this Sunday at 1 p.m. against Idaho State before heading east to face North Dakota on Oct. 14.