College Assistance Migrant Program wins sustainability-themed homecoming parade
Saturday's football game may have started at 6 p.m., but dozens of Sacramento State students and staff members began working at 9 a.m. to decorate golf carts for the Homecoming parade.
This year's parade contest saw a record number of participants, with 18 campus organizations and residence halls constructing their own themed golf carts.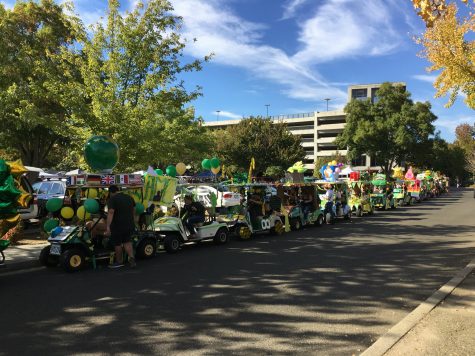 According to special events coordinator Gladys Glaude, who also organized the year's parade, all participants were instructed to use sustainable materials. Following these guidelines, students used recycled paper, bottles, streamers, and other items to decorate their carts.
Many of the carts focused on school spirit, with various cutouts of footballs, green and gold decorations and plenty of Herky the Hornets.
The College Assistance Migrant Program, which won first prize in the contest, even had a giant poster of President Robert Nelsen flashing the famous "stingers up" pose.
Other groups used their designs to make a statement, like the Black Student Union and M.E.Ch.A. de Sac State, who collaborated to build a float protesting police brutality.
"Racism is a subject that (people) shouldn't be shy to (discuss) and I hope that with this float we're able to break that silence where people will be more open to speak about it," said Isaiah Alexander, vice president of the BSU. "I hope that we can start becoming humans in the community and speaking to one another like that and also just including love in that conversation so we can come to a solution."
The parade of golf carts is a Sac State tradition to show off different campus organizations to new and returning students during every homecoming game.
This year, the football team was up against University of North Dakota.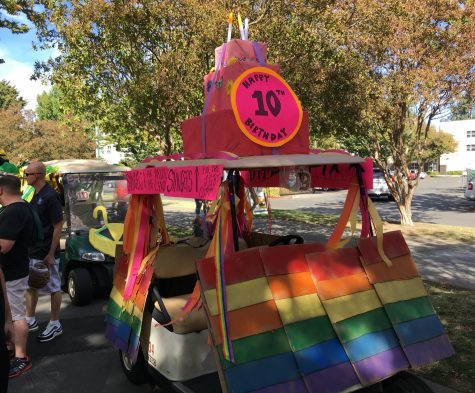 The parade began at the residence halls and rolled through campus to Hornet Stadium, where floats were evaluated for innovation, creativity, proportion, scale and adherence to the theme of sustainability. Among the panel of judges was Associated Students, Inc. President Patrick Dorsey.
"There were so many great floats," Dorsey said. "I had a hard time with the innovation part, because I think of lot of people brought different aspect of what it means to have (their) stingers up."
During halftime, the floats circled around the field as the finalists hoisted their trophies. Desmond Hall won second prize and Draper Hall placed third, but the night belonged to CAMP.
"I know this means a lot for our CAMP family," staff member Jessica Arauza said after the halftime parade. "We had a vision and we all really came together to make it work. It's a good feeling."