Sac State alumni turn baseball dreams into minor league careers
During this year's Major League Baseball draft in June, three Sacramento State alumni turned childhood dreams into minor league baseball careers.
Pitcher Tyler Beardsley was selected by the Minnesota Twins, pitcher Sam Long was drafted by the Tampa Bay Rays, and catcher Gunner Pollman was selected by the Miami Marlins.
Beardsley, who was picked in the 16th round, was the first of his former Sac State teammates to be drafted, and cherished the moment that started his professional career.
"It was probably the best day of my life," Beardsley said. "[Getting drafted was] something that I've always wanted to do, and then to have my name called made it all real to me."
All three former Hornets started with entry-level rookie ball teams, which are comprised primarily of players out of college, young international players and high school prospects. For some of the players, the new league provided a variety of new experiences.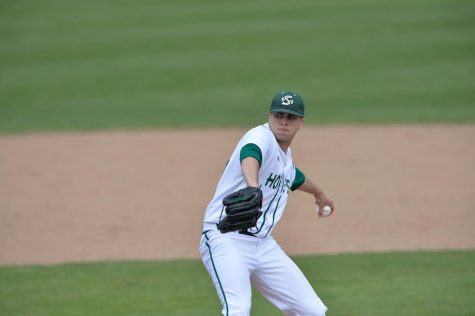 Long, who played for the Princeton Rays in West Virginia, admittedly encountered culture shock between the language barrier with Spanish-speaking players and adjusting to life in a small town. According to the U.S. Census Bureau, the population of Princeton is 6,035.
"The town that I was in is actually one of the smallest towns to have a professional baseball team," said Long, who left Sacramento. "I haven't lived in a small town before so it was a new experience."
Despite coming off of a back injury the previous season and the change of scenery in West Virginia, Long pitched 33 strikeouts and gave up 9 earned runs over 26 innings, according to MiLB.com.
Midway through the season, Beardsley and Pollman were both called up to Low-A teams, where they played for larger crowds and faced an elevated level of play.
"To throw well and then have the opportunity to go play at another level was probably the highlight of my first season," Beardsley said. "A lot of guys stick around in rookie ball."
Pollman, who moved from a team in Jupiter, Florida, to Greensboro, North Carolina, was surprised by the rapid turnaround following his promotion.
"It happened so [quickly]," Pollman said. "It was like 9:30, [and] I had to pack my bags and be ready to go in the morning at 5:45. You're just in and out."
After going hitless in his first three games with the Greensboro Grasshoppers, Pollman blasted a home run for his first hit in Low-A baseball.
For others, getting called up led to new opportunities on the field.
Beardsley, who pitched in relief through most of his collegiate career and currently holds the record for fourth most career saves in Sac State history, was named a starting pitcher in Cedar Rapids, Iowa. There Beardsley made five starts for the Kernels, and helped the team earn a playoff berth.
Over the course of the season, some of the former Hornets had exciting encounters with notable baseball figures. In West Virginia, Long enjoyed playing against Vladimir Guerrero Jr., son of the nine-time All-Star Vladimir Guerrero. He also got the chance to play with Rays center fielder Kevin Kiermaier, who played during a brief rehab assignment in Florida's Gulf Coast League.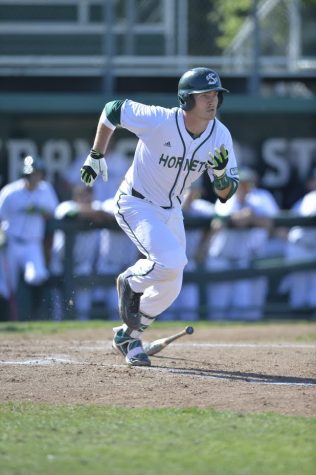 During his time in rookie ball, Pollman recorded his first two professional hits off of MLB veteran pitcher Bronson Arroyo, who was a member of the historic 2004 Boston Red Sox championship team. Arroyo was also completing a rehab stint.
Despite being stationed all throughout the country, all three former Sac State players remain friends with each other, as well as other Hornet alumni playing in the minor leagues.
In August, Long and Beardsley played against each other in Tennessee, and caught up after the game.
"We got a couple beers and got to hang out a little bit while we were all the way out there which was kind of crazy," Long said. "I'm definitely going to miss playing with those guys. We keep in contact pretty frequently, so I'm looking forward to sharing some experiences with them."
The players all have fond memories of their time at Sac State, and shared plenty of praise for the baseball program.
"They prepared me very well," Beardsley said. "A lot of the stuff I'm still doing now I did [there] at Sac [State], so they have definitely been a key to my success."
Pollman, who led the Western Athletic Conference in runners caught stealing in 2015 and 2016, also credits Sac State for helping him establish his dominance as a catcher. Though he has struggled offensively in college and in the minors, Pollman's defensive strength has continued to gain him attention from scouts and coaches.
"In my position being a catcher, defense is so important," Pollman said. "They were constantly on me, pushing me to get better defensively and also mentally. That was huge."
This February, Beardsley, Long and Pollman will start their first full minor league seasons at spring training in Florida, where they will have the chance to make an impression on major league ballclubs while playing alongside big leaguers.
While the future for these players remains uncertain, Sac State head coach Reggie Christiansen has plenty of confidence in them.
"I think [they all] made good decisions," Christiansen said. "All three of those guys have a chance to play for a long time."