No delusion for this Perfect Illusion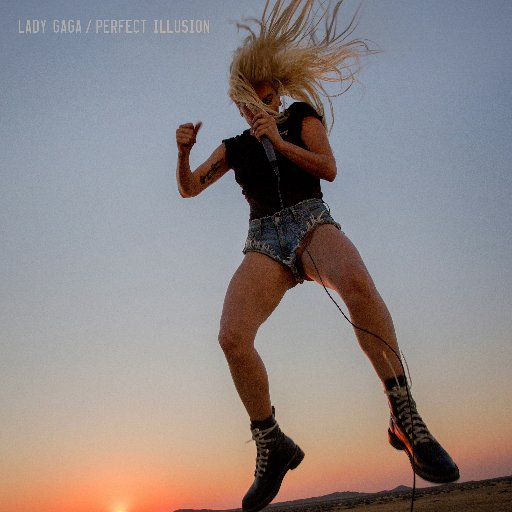 "It was just an illusion", cries Gaga in her rock-inspired new single. Perhaps that's what three years of absence was to the general public.
In the three years it's been since Stefani Joanne Angelina Germanotta, known to the world as Lady Gaga, left the music world to pursue other projects, she's landed the lead role in American Horror Story: Hotel, made a jazz album with the legendary Tony Bennett in 2014, performed in The Sound of Music tribute at the 2015 Grammy Awards, and just generally enjoyed life outside the limelight as a 30-year-old.
The wait for new music that wasn't jazz was compared to the waits for other artists; when put into perspective, Beyonce, Rihanna, Britney, and Frank Ocean have put out albums before Gaga. The woman who was once the center focal of the celebrity world was gone.
After months of teasing from her producers with no official word from the Lady herself, a series of 12 images were uploaded  to her Instagram in order to create a simple mosaic: her new single will debut on September 9.
The single, which was released worldwide 8 p.m. Pacific Time Sept. 8, is called "Perfect Illusion"; a reminder to the world that she was back.
Since her 2013 album ARTPOP, Gaga has since changed her management (moving to another division of Live Nation), and stressed more emphasis on her vocals and her subdued image. Gone are the meat dress, couture gowns, the crazy heels; in its place now are boots, distressed jean shorts, and faded band shirts.
An angry guitar rips through the silence right from the beginning of "Perfect Illusion", revealing to listeners that this isn't the same woman who sang about dancing. This new single has a subtle build up with a steady drum beat that grows louder and louder until the first chorus explodes into a triumphant resurrection of stadium-anthem rock, which only grows more and more powerful with each return.
The song serves more than just being a tribute to revived genres; it comes with that millennial twist that drives audiences crazy. A change of pitch enters the field after the second chorus, heralding a much more serious and somber tone. It still keeps up with the rock-influence, but the message is much more serious: it wasn't love, it was just a perfect illusion, the kind that makes you think about your life despite your limbs flailing about to the melodic rock.
Lyrics like "I felt you touching me/ High like amphetamine/ Maybe you're just a dream" hint at a heartbreak much deeper than the fleeting feeling you get when you stop talking to someone, and move onto the next Tinder interest just a week later. Gaga's vocals stress just how much what she had was not love at all, becoming blinded by her infatuation to see that maybe she never really was loved in the first place. She sings "It wasn't love", but it hints that one point in this relationship, she had considered what she had was love. And perhaps more so, shows millennials, a generation where hooking up has become as common as picking up one's mail, as well as what it feels like to be in love and lose it quickly after. Only a few people get to experience it; and the break up is just as much ecstasy as being in love.
The track's parent album hasn't been named nor announced, but from the great fanfare that was awaiting the release and the equally, if not more, positive reaction following its release, "Perfect Illusion" was the perfect resurgence to show the world exactly why they were fascinated by this "mother monster's" every move in the first place.