Big Sticky Mess delivers quirky funk at Nooner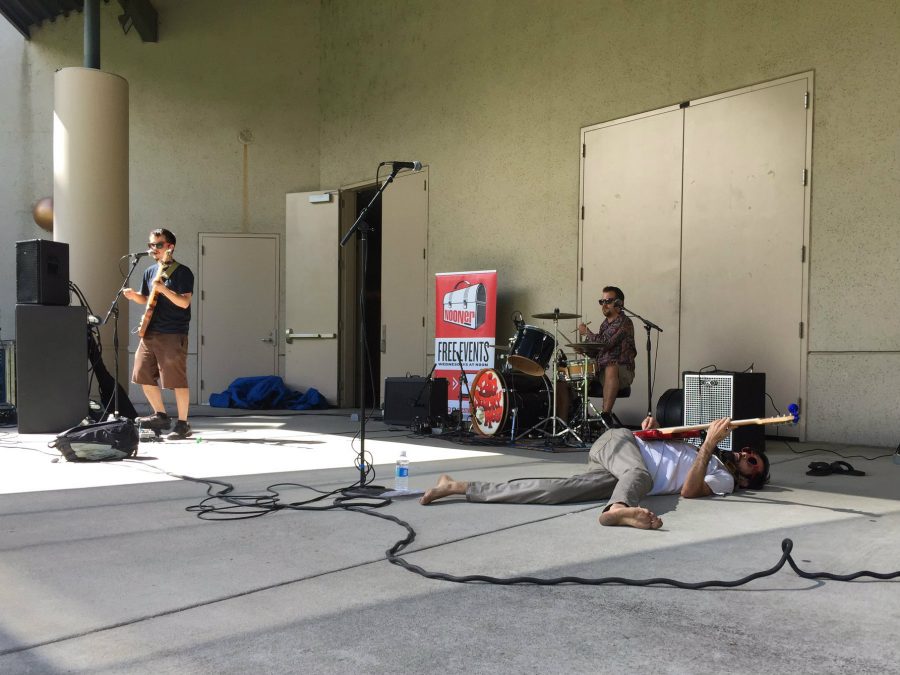 Cooler temperatures brought a larger-than-usual crowd to the University Union Serna Plaza to watch this week's Nooner performance, Big Sticky Mess, playing its unique American-funk style for the Sacramento State campus.
The Davis-based band has three members: Patrick Langham, Karl Rafmussen and Jonny Gould. The band compares its sound to that of a larger group with eight or nine members.
At the Nooner, Big Sticky Mess opened the show with a song about letting go, and transitioned to its most popular track, "Popsicles."  Audience members were cheering and singing along nonstop for the duration of the song.
Lead singer Jonny Gould, who goes by Jonny Blaze when performing, often interacted with concertgoers between songs. At one point, Gould offered CDs to whoever could teach him a brand new dance move.
"[Our CDs] are great to scare birds away from your garden and great coasters for your beer," Gould said. "We also have floppy disks for anyone who still has a floppy [drive]."
Big Sticky Mess also played an original song about road bikes, and another called "Don't Shake Your Baby," inspired by a billboard in the Bay Area about not shaking babies.
"I don't know why, but as a band, we're highly influenced by pictures," said Gould when explaining the story behind the song.
The band ended this week's Nooner with "Everybody's Freaky," a track off from its new LP, "It All Looks the Same in the Dark."