Women's tennis battles flu, drops match to Fresno State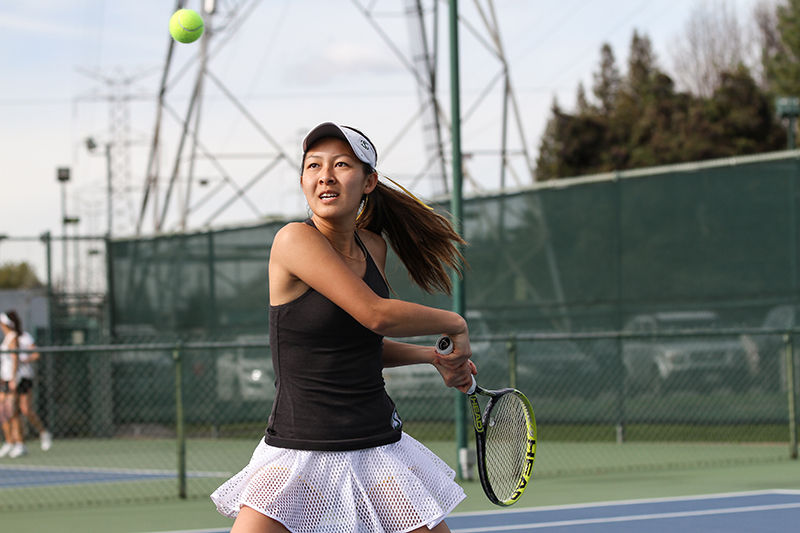 The Sacramento State women's tennis team was defeated 6-1 against the No. 20 ranked Fresno State Bulldogs at the Spare Time Indoor Tennis Center on March 12.
The Hornets not only competed against one of the best teams in the nation but they also did battle against the fierce opponent known as influenza.
Junior co-captain Alina Soltanici was one of the many players affected by this sickness and she ended the last match of the day with a 6-2, 6-3 loss to Mayar Sherif Ahmed at No. 1 singles. Soltanici had her hands full as she squared off against the reigning two-time Mountain West Women's Tennis Player of the Week.
"They're highly ranked and probably the best team we're going to play this season. We knew we were going to have to be competitive," Soltanici said. "It was a little bit tough because during the week almost half of the team caught the flu … and it was even tougher because the girls are really good and to play them you have to be 100 percent ready which unfortunately didn't happen today."
This trend continued as Sac State senior Jennifer Ong lost to Sophie Watts in the No. 2 singles competition by the score of 7-5, 6-2. Ong, suffering from the flu as well, noted the team's lack of preparation against the improved Bulldogs as their undoing.
"They're a really strong team this year. They've always been fairly strong, but this year they definitely have a stronger lineup one through six," Ong said. "I felt like I still put up a good effort considering the situation … I felt like I played one or two good points, but in the end I couldn't hold it for a whole game. That was the real difference in my match today."
The first and only victory of the match for Sac State was when junior Andie Mouzes defeated Emma Wilson in No. 5 singles play by the score of 6-2, 6-4. The Bulldogs dominated the rest of the day with Galina Bykova's conquest over sophomore Ana Loaiza Esquivias (6-2, 6-0) at No. 3, Sofya Malysheva's win against No. 4 junior Deimante Bulatovaite (6-1, 6-4) and a 6-2, 6-0 victory for Anneka Watts over freshman Sofia Wicker.
The Hornets also failed to earn a victory in doubles play for the fourth time this season as the No. 1 Watts' sisters defeated Soltanici and Bulatovaite 6-2 and Bykova and Sherif Ahmed outlasted Ong and Loaiza Esquivias 6-3 in No. 2 play. No. 3 Olivia Noble and Malysheva ended the rout with a 6-2 win against Mouzes and Emily McColl.
Despite these lopsided results, Soltanici remains optimistic that the Hornets can bounce back from their current three-game losing streak and begin conference play with a bang.
"Overall I can say this team was good, and we lost fighting. Maybe not everything was working as we wanted to today, but we just have to analyze our game and think about what was wrong and try to work hard correcting our mistakes," Soltanici said. "Do our best to not repeat these mistakes … and focus on next weekend in an important conference match."
Sac State will host Idaho in its first Big Sky Conference match of the season on Saturday, March 19 at the Rio Del Oro Racquet Club in Sacramento.