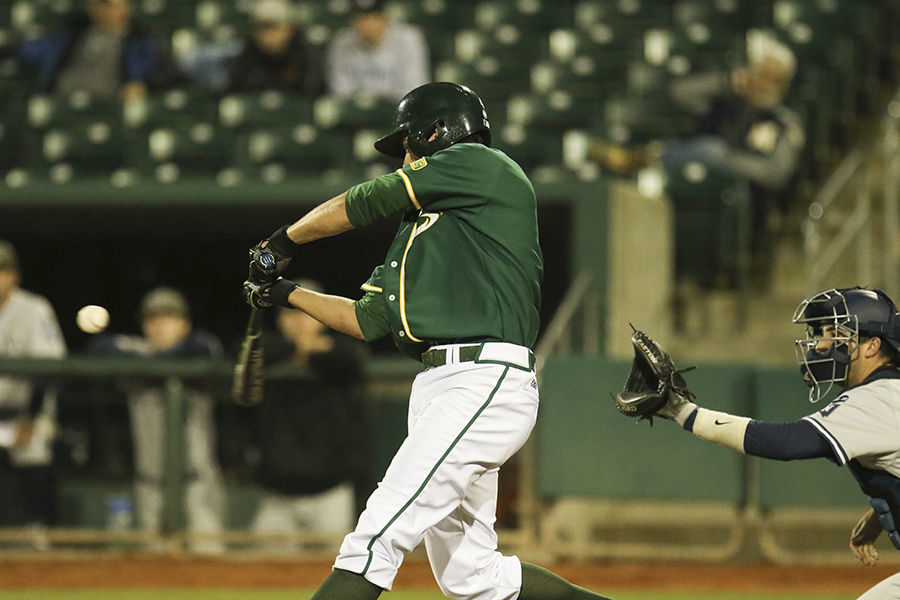 Sacramento State's baseball team was unable to pick up a win over Arizona in the three-game series, as the Hornets fell to the Wildcats 8-4 Sunday afternoon in Tucson, Arizona.
Sac State (8-6) starting pitcher Justin Dillon received his first loss of the season. It was Dillon's first appearance since the opening series against Auburn due to a hip flexor injury. He pitched 3 1/3 innings giving up four runs, three of which were earned, on three hits and four walks.
Arizona (11-4) picked up right where it left off by scoring an early run in the bottom of the first inning. Senior second baseman Cody Ramer led the inning off with a double, stole third base and finally scored on an error committed by catcher Gunner Pollman.
The Wildcats built on their lead in the bottom of the fourth inning by scoring three more runs. Cesar Salazar started the rally with a single to right field. Louis Boyd and senior Justin Behnke drew walks to load the bases with just one out. Jared Oliva executed a sacrifice bunt down the first base line that scored two runs. Ramer followed with an RBI triple to left field to extend their lead to 4-0.
Back-to-back doubles for the middle infield of the Hornets in the top of the fifth inning put them on the scoreboard. Junior shortstop Brandon Hunley hit the first double in the left center field gap and sophomore second baseman Dan Deely doubled down the left field line to score Hunley.
Arizona widened the lead as it scored two unearned runs on a trio of bunts in the bottom of the sixth inning. Boyd led off with a double down the left field line and Behnke followed with a bunt for a single. An error committed by Deely during the bunt caused Boyd to score and Behnke to advance to second. Oliva followed with a bunt of his own to move Behnke to third base with only one out. Ramer finished the attack with a sacrifice bunt to score Behnke.
Sac State started to battle back in the top of the seventh inning with a couple of big hits. Sophomore right fielder Andrew McWilliam led off with a bunt for a single. Senior left fielder Chris Lewis followed with an RBI double down the left field line to score McWilliam. Junior third baseman Kody Reynolds scorched a two-run home run down the left field line to put them within two runs of Arizona.
Arizona countered Sac State's three runs in the seventh with two of its own. Zach Gibbons and JJ Matijevic started off the inning with back-to-back singles. Bobby Dalbec successfully moved the runners to second and third base with a sacrifice bunt. Gibbons was then thrown out at home on a fielder's choice hit by Salazar. Boyd followed by getting hit by a pitch and Behnke did damage with a two-RBI single.
Reynolds led the offense for the Hornets as he went 2-for-4 with a two-run home run. Deely went a perfect 2-for-2 with a double and an RBI. Lewis had two hits of his own, including a double and an RBI. Hunley went 1-for-3 with a run scored. McWilliam added two hits and Vinny Esposito had a hit as well.
Sac State will return home on Tuesday, March 15 to face off against William Jessup University at 2 p.m. at John Smith Field in Sacramento.