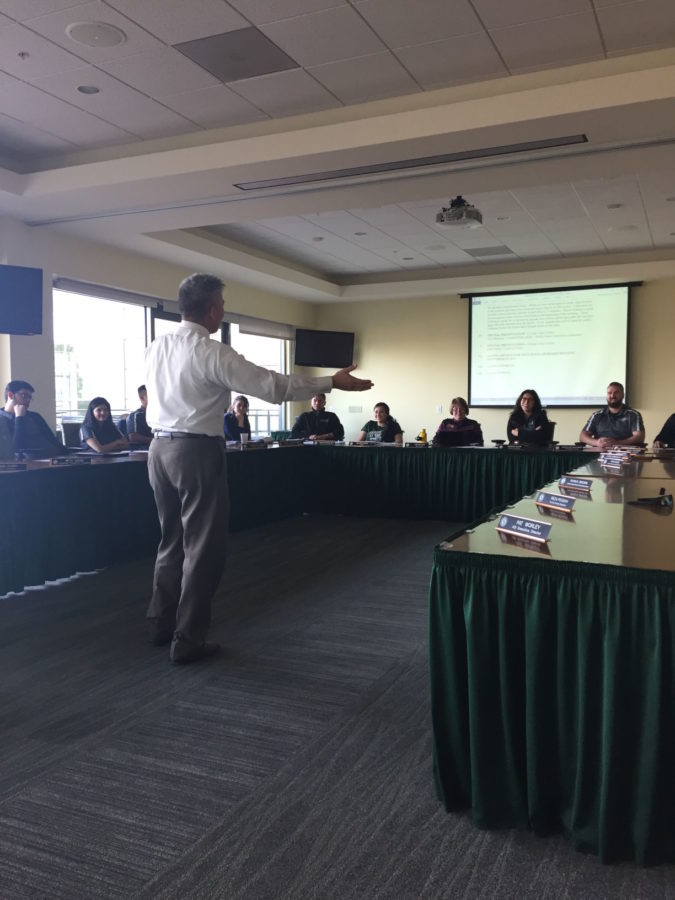 Mark Iwasa, Sacramento State's chief of police, met with the Associated Students, Inc. at their weekly working board meeting on Wednesday, Nov. 18 in the Terrace Suite of the WELL to explain and discuss the new tailgating policies that are set to begin at this weekend'so Causeway Classic game.
Some problems that have occurred at past tailgates has led to a crackdown on some tailgating rules.
"Activities in the parking lot has grown exponentially throughout the years to the point where it's starting to tier on becoming unsafe," Iwasa said. "The potential for problems is getting pretty high and it is mine and my department's job to keep it safe and prevent future danger."
Some issues Iwasa said have been occurring are underage drinking; excessive drinking games such as beer pong; parking lot 8 turning into a house party atmosphere that is being promoted by fraternities and different organizations online; multiple DJs competing for volume in the parking lot; and the main entrance of the football game is being blocked off by groups and other harmful behaviors.
"We've had fights, we've had protests against my staff, there have been arrests," Iwasa said. "At homecoming this year there were a lot of drunk students and one of them left with broken sockets and collarbone."
Due to those major issues some of the rules that will be in place and enforced during the Causeway Classic game includes the ban of amplified entertainment and sound unless authorized by the athletics department and the ban of drinking game tables –specifically beer pong and monitored tailgating sections by officers.
"These are not changes so much as to how things have been traditionally but changes to correct some of the things that have been going wrong in the parking lot before football games and to ensure safety." Iwasa said.
There will be a group of DJs offered by the athletics department who will take turns playing, and that will alleviate the problem of completing Djs.
Aryn Fields, director of Social Science and Interdisciplinary Studies, commented on the new policy enforcement.
"I really support the regulations of these policies because campus safety should be everyone's priorities, students can find a lot of ways to have fun on campus and at games without putting themselves at risk and I'm glad that policies are in order before something really tragic happens," Fields said.
Melissa Bardo, ASI president, is also in support of the policy and sees it as a preventative method from a terrible incident.
"A lot of these policies are not new, we are just starting to enforce them because they are starting to become a problem," Bardo said. "It only takes one terrible incident to shut everything down so it's important to enforce these polices now to prevent those things from happening."
Additionally, ASI Safe Rides will be providing transportation from 2-4 p.m. on Saturday after the Causeway Classic tailgate to ensure students get home safely.