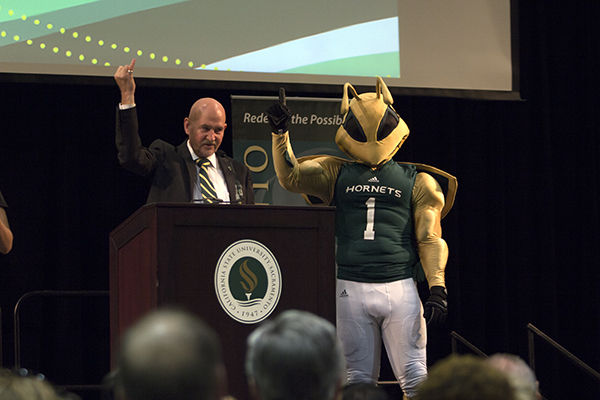 Sacramento State President Robert Nelsen gave his first fall address to students, staff and faculty on Thursday in the University Union Ballroom.
Nelsen emphasized his pride for being a part of the Hornet community and his desire to make Sac State an even better school.
"Leadership, service, and success are the qualities I see everyday at Sac State," Nelsen said. "I have a long way before you and I become friends and confidants, but I believe in the Hornet family."
Nelsen also focused on the poor graduation rates on campus for both four-year and six-year track students. He said the rates should not be improved at the expense of the quality of education provided to each student.
"There can be no more excuses for poor graduation rates," Nelsen said. "Every student needs to be treated as an individual, but we should never lower our standards just so [students] can graduate sooner."
Nelsen addressed the need for decreasing the number of students that have to take remedial classes, which lengthens their time at Sac State as well as their debt.
"I am confident we can reduce the number of students in remedial education so our students are not caught on the treadmill of remedial work," Nelsen said. "Like Sac State, I am student-focused."
Another speaking point of Nelsen's was using the money available to the university in a responsible way so that Sac State can continue to grow.
"We will be spending every dollar that we receive so there is no margin for error," Nelsen said. "We are putting our money where our mouth is."
Other highlights of the speech included a plan to provide full-time students with financial incentives to remain full-time, new ways of addressing impaction and overcrowded classes on campus, fundraising efforts, and community engagement.
Nelsen ended the address by saying he is proud to be part of the Sac State family.
"I believe in you, I believe in the Hornet nation," Nelsen said. "Stingers up."