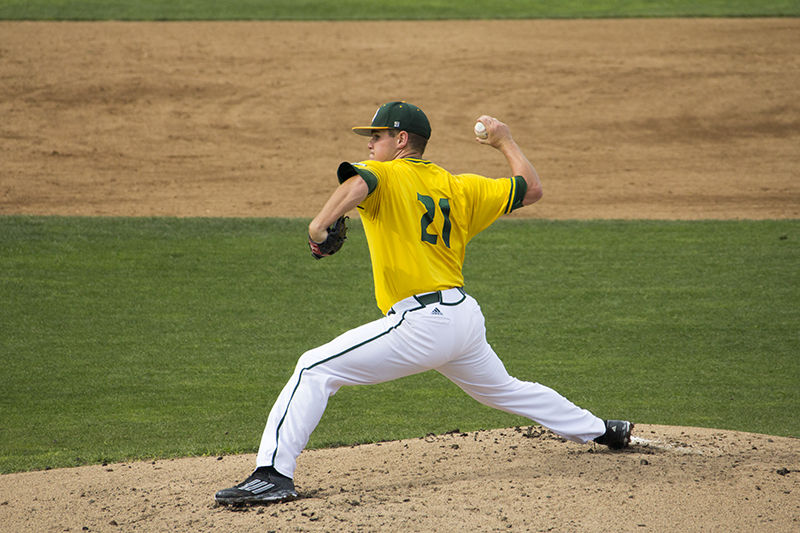 Brennan Leitao pitched seven innings and closer Sutter McLoughlin pitched a perfect ninth to become the Hornets' all-time saves leader, as the two led Sacramento State to a 4-2 victory over the visiting University of Texas-Pan American Broncs today at John Smith Field.
The contest was the Western Athletic Conference opener for both teams. Sac State improved to 11-9, while UTPA dropped to 10-9 on the season.
Leitao (2-1), the Hornets' all-time wins leader, had to battle in today's game. After breezing through the first two innings, Leitao got into trouble in the third inning allowing an RBI double to Cole Loncar.
The senior recovered to pick up career win number 26. He finished with seven innings pitched, allowing two earned runs, four hits, one walk and one strikeout.
"I didn't have my best stuff today," Leitao said. "My command was a bit off. I just competed the best that I could and took advantage of their aggressive approach."
McLoughlin, a junior making his second appearance of the season after recovering from an offseason shoulder injury, picked up his 27th career save moving him to the top of the Hornets' career saves list.
"It's really nice having Sutter back," said Sac State coach Reggie Christiansen. "He's still a little rusty, but him being there allows others in our bullpen to occupy roles that they are more suited to fill."
Nathan Lukes led a 10-hit Hornets' attack by going 2-for-2, including a seventh-inning solo home run and finishing with two RBIs. The junior, who is batting .444 on the year, continues to lead a Hornets' offense trying to regain some of their early season form.
"I didn't know if I got all of it," Lukes said. "I am a line-drive hitter not really looking to knock the ball out of the park."
Blake English pitched a complete game in a losing effort for UTPA, going eight innings and allowing all four earned runs. The senior entered the game with a WAC-leading ERA of 1.59. He recovered after allowing three earned runs in the opening frame. However, his ERA rose to 2.64 after the game.
The Broncs' offense was held to four hits. Loncar had the lone extra base hit for the Broncs with his RBI double. The Hornets kept Logan Landon in check by keeping the Broncs' senior hitless. He entered the contest with a WAC-leading batting average of .476.
The Hornets started the scoring early. Scotty Burcham's one-out triple in the first inning nearly cleared the wall in right field. He was plated by a Lukes' RBI single to center.
After PJ Floyd was beaned, and Brandon Hunley reached on a fielder's choice, Dane Fujinaka's two-out RBI single to center pushed the Hornets' lead to 3-0. Fujinaka made his first start of the season as the team's designated hitter.
"We are looking for guys to step up," Christiansen said. "Dane was the heart and soul of our team the last couple years. I figured he would come in, compete and give us some solid at-bats."
Grant Kukuk pitched a perfect eighth inning before handing the ball to McLoughlin to pitch the record-breaking save in the ninth inning.
Game two of the three-game series is scheduled for Saturday at 1 p.m. at John Smith Field. Sam Long (4-0, 1.69 ERA) will start for Sac State, while Robert Quinonez (2-0, 2.55 ERA) will start for UTPA.