Prado gets second chance at senior season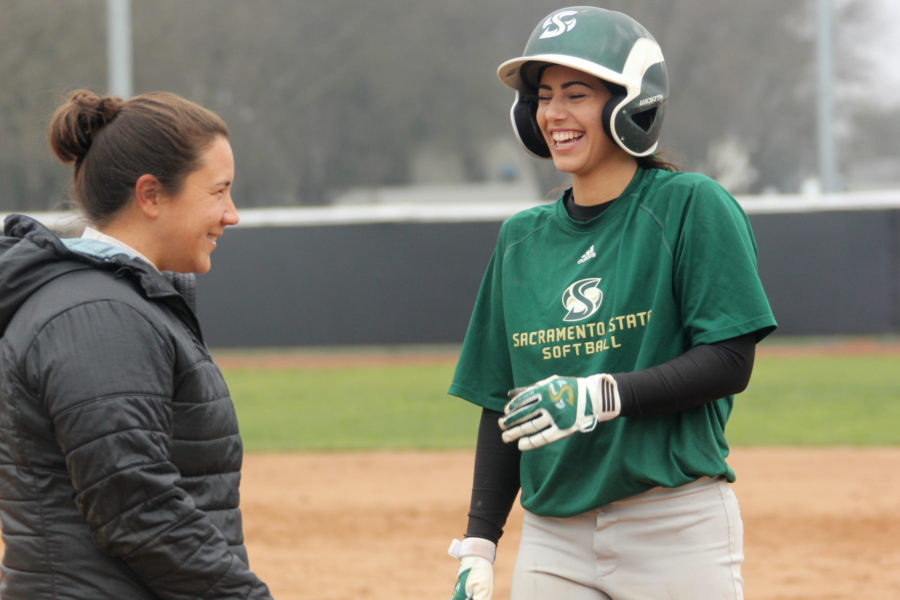 Not many athletes can say they received a second shot at their senior season, but the Hornets' softball catcher Paris Prado is getting that opportunity after winning her final year of eligibility back after being cut from the team her freshman year.
Prado, 22, was prepared to graduate in the spring of 2014 with a bachelor's degree in communications. However, three days before the commencement ceremony, Sacramento State's Athletic Compliance Director Katherine Zedonis informed her of life-changing news.
"I was about to walk, I had everything picked out and my parents were coming," Prado said. "I really thought I was going to walk then she [Zedonis] told me the news, and it was unbelievable. I remember calling my mom screaming, crying and laughing, telling her I got my year back, and we knew I was going to take it. It was crazy."
In the summer of 2013, Prado was informed by Sac State's softball head coach Lori Perez—interim head coach at the time—that she would be entering her final year of eligibility. This came as a shock to the catcher because she believed she was going into her junior season.
Zedonis explained the reason she lost one year: Division I athletes have a five-year clock called the five-year rule. For student-athletes, as soon as one begins full-time enrollment in a four-year or a two-year college, the clock starts ticking. In those five years they have four chances to compete.
"Paris came out as a tryout through the tryout process in her freshman year," Zedonis said. "In the first tournament weekend in the fall, she had one at bat. We have sports that span both semesters [at Sac State], so for those sports as soon as you compete, it is considered a season used."
That single at bat cost her one year of eligibility.
At the time, Perez was an assistant coach for the team when former head coach Kathy Strahan cut Prado. She said that situation sat in the back of her mind, but it didn't come forth until she took over the reins of the program in 2013.
"We found that she had competed in that one game in the documentation in our books," Perez said. "It obviously was an unfair thing for her. We hadn't really thought about that part until it all came to light. When looking back at it, if we didn't have her in for that one at bat it wouldn't have even been an issue."
To Prado's knowledge at the time, she believed that wouldn't go against her. When others found out about her situation, they encouraged her to to take action against the rule. That's when she went to Zedonis to figure out her options, and from there the appeals process began.
"She came in and approached us," Zedonis said. "We all thought this was an interesting case and thought 'we didn't know if we were going to get it through,' because in seasons of competition, the NCAA is pretty strict. You have to have a medical hardship or an extenuating circumstance to get a season back. This case seemed like it had some merit to file."
Zedonis filed an online seasons of competition waiver in the fall of 2013 and sent it into the NCAA, where it went through an appeals process and a committee made up of different college athletics administrators throughout the country denied her first appeal.
In the second appeal, she was able to include a letter that explained her situation and was able write a more detailed story. This particular one went in front of a group convening in person in Indianapolis, Indiana in the NCAA offices in May 2014. A staff member assigned to Prado's case delivered the information to the committee and rendered their verdict.
The decision overwhelmingly came out in her favor, so Prado was awarded another year to compete for Sac State under one condition; she has to be withheld from the first contest of the spring season. Prado said that compromise was worth it if it meant she could keep playing.
"I thought the chances were so slim," Prado said. "There's a whole database [Zedonis] could get into and there was no situation similar to mine that had passed, so there was nothing to support me. I remember her telling me that this was huge. This is going to help anyone in the future who was in my situation, they can pull up this file."
Her closest friend on the team, senior outfielder Nicole Clark, said she's excited to have her competing with the team and knows the kind of impact Prado's presence has on their teammates.
"It's been the best feeling and we're excited that we get to end our careers together," Clark said. "All of the girls look up to her. Having her there is huge for us. It's another older girl to help lead our team and she was a lot of experience, fire and passion that helps us win our games."
Perez is ecstatic to have her back this season because of the strong work ethic Prado puts in as a captain. She also admires her infectious personality, but isn't going to let her live down her opportunity of having another senior day.
"I will not stop harassing her about the fact that she's going to get two senior days," Perez said jokingly. "She's fun to work with it. That's the thing that sets her apart from other Division I athletes. She's approachable … and she works hard."
Last season, Prado recorded 19 starts in 31 games played, hitting .267 with a .348 on-base percentage. She collected seven runs, four doubles and three RBIs.
"I'm so happy, and I feel like this is how I was supposed to feel," Prado said regarding this season. "On senior day this year I'm going to be ready for it, and I'm going to be excited. It's going to be a nice closing chapter to my softball career."
Her first appearance this season will come against Northwestern State in the So Cal Collegiate Classic in Long Beach, California on Feb. 6 at 2 p.m.
Update: this article has been updated to correct the dates of Paris Prado's expected graduation and secondary appeal. The dates were written as 2013. Also, the spelling of Sac State's Compliance and Financial Services Director Katherine Zedonis's name. It appeared as Katherine Zendonis.