Red Rabbit offers a intimate setting for food and cocktail lovers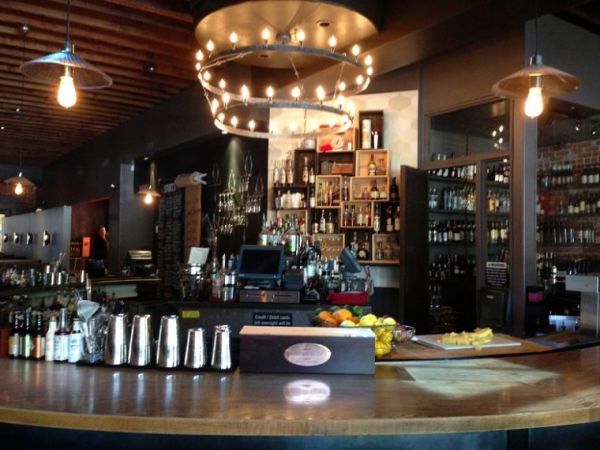 Red Rabbit Kitchen and Bar owner Matt Nurge has taken his knowledge of food and drinks to open a neighborhood restaurant that welcomes everyone into its casual atmosphere.
Located at 2718 J Street, Red Rabbit awaits those searching for a warm and lively setting.
The decor and arrangement of the kitchen and bar is "reclaimed industrial." With deep-wood tones, brick facades and a central bar, Red Rabbit has a smooth and sexy feel.
Nurge said the name of Red Rabbit stems from a European concept of taking an animal and associating it with a color, which helps to imbed the branding into people's minds.
The neighborhood bar has a variety of cocktails with a menu that is approachable and simple to distinguish between taste.
Nurge said when opening Red Rabbit, he wanted a menu that would categorize cocktails under flavors such as bitter, tart and refreshing or juicy and rich.
"We rotate out those flavor profiles on cocktails," Nurge said. "There's only 12 featured cocktails, while we could make anything."
Nurge's interest in the craft cocktail movement, which uses fresh ingredients and handmade syrups, is something he and co-owner Sonny Mayugba have incorporated into Red Rabbit.
"What I love most about food and drink [is] the community sharing," Mayugba said.
The most popular cocktail is the "Krakow Salt Mine," made with Zubrowka (Polish vodka), apple cider, lemon, ginger beer, syrup and kosher salt.
Customer Martin Cate is from San Francisco, but said it is worth the drive to Sacramento to have a few drinks at Red Rabbit.
"There's a growing cocktail scene here," Cate said. "I love the bar, the bartenders are wonderful and [Red Rabbit] has some of the best quality and freshest cocktails I've had."
Its centered curved bar, along with both a front and back patio, makes Red Rabbit different from other bars.
"It's lively and it's built to be conducive to enhance socializing," Cate said. " It's more like a personal bar. And the curved bar allows more of the intimacy and allows you to see your fellow drinkers."
The food served at Red Rabbit is influenced from places like Latin America and Asia. Nurge said the food is somewhat inspired from all over the map.
One of the most popular dishes is the  "Osso Bucco," a braised pork shank with creamy manchego polenta and braised swiss chard. Priced at $21, Nurge said it keeps customers wanting more.
Lunch prices range from $6.50 to $16, while dinner is a bit more expensive at the $6.50 to $23 range.
Customer Eddie Pollitt dines and drinks at Red Rabbit several times a week.
"I love the atmosphere. (The) Drinks are great and the food started off good, and it has just gotten better," Pollitt said.
All the food is seasonal and locally sourced, which makes for an evolving menu and the recipes are are created through collaboration and inspiration from restaurants all over.
" [Mayugba] travels a lot and sends me menus all of the time from other cities," Executive Chef John Bays said. " Also, the [recipes are] globally inspired [and] locally driven."
Bays has been part of the local restaurant scene for more than 20 years and believes the less ingredients, the better the dish will be.
From fine cocktails made from house-made syrups and freshly squeezed juices, to culturally inspired dishes, Red Rabbit provides any customer with that sexy and lively environment.