Provost looks to increase international awareness, students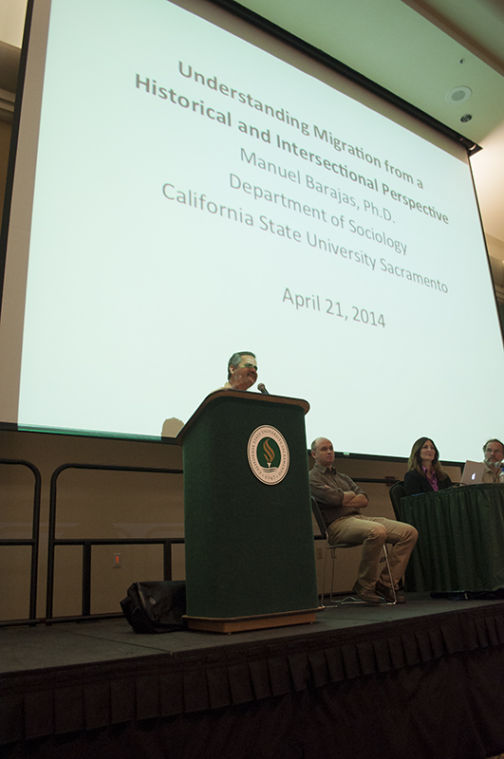 State Hornet Staff
April 22, 2014
Sacramento State's Office of the Provost is in the early planning stages of international recruitment to increase the number of foreign students on campus.   
Donald Taylor, associate vice president of Academic Programs and Global Engagement, said there is a large market for international students in countries with a rapidly rising middle class including Brazil, China, South Korea, Japan and Taiwan, but Ivy League and major research universities are in competition with Sac State for the same pool of students.
"If we are going to provide our students with the knowledge and attitude to deal with an increasingly global world, then we also need to recognize not all of our 29,000 students are going to be able to study abroad," Taylor said. "But when we bring students who sit in classes with them, share ideas with them and explore new ways at looking at things, it helps reshape their predisposition and educates them for a global environment."
Taylor said the provost is working to develop strategic pathways for recruitment of international students.
The Global Critical Pathways Strategy will look at creating interest among students from countries with middle classes that can afford to study at Sac State, but will also look at emerging nations that may have eligible students but lack money.
As part of the strategy to reach students in emerging nations, Sac State will look to partner with businesses in the area to sponsor scholarships and grants for students.
Still in the planning phase for this project, President Alexander Gonzalez has yet to announce a percentage goal for the increase of international students.
"I'd like to see, at least over the next three years, an increase of 5 percent, if possible per year," Taylor said.  
Taylor said students are still challenged to find open courses and some programs are impacted, which may lead people to question international student enrollment if classes are already full for California residents.
The Sac State budget accounts for domestic students only, and international students would mean an extra cash flow that could create more class options for all students.
"Having international students actually helps the budget situation," Taylor said. "It doesn't take away seats from U.S. students, it gives the potential for more seats and more sections."
Documented studies have shown study abroad experiences have a high impact on student retention and graduation, Taylor said.
"We are not sending enough students abroad as we would like to from this campus, and we want to give more students the opportunity to do so because of the high impact practice," Taylor said.
In an effort to increase international education awareness, Sac State is celebrating International Education Week, where students can experience different languages, cultures and learn about traveling abroad.
Back for its second year, International Education Week has different events and panel forums planned throughout the week, including international language learning tables where students can sit and learn a few phrases in different languages.
"Communicating with people in their language creates a whole different experience," said Foreign Language Professor Kazue Masuyama. "Language is a very authentic way for people to have a first-hand global experience."
Masuyama helped organize International Education Week and helped coordinate the setup of  language tables, including  the nine languages offered at the university as well as a few others, including Farsi, Hmong, Punjabi and Arabic.
Business administration graduate Qingrui Ye is studying English at the Sac State English Language Institute and led the Mandarin table Tuesday.
Ye said learning other languages is the best way to immerse into other cultures.
"In my opinion, language is a reflection of the culture," Ye said. "Especially for international business, understanding the culture is very essential because you have to respect other cultures."
Students might understand the concept of global education by consuming the media of other countries like news, entertainment, music, art, history or food, but it is not the same as experiencing a new language, Masuyama said.
"It is surprising that United State students in this country do not experience much international education," Masuyama said. "Sometimes students graduate without being exposed to a foreign language."
Global education is important for students because it enriches student experiences and allows them to prepare for an increasingly global world, Taylor said.
"A lot of the places where our students are going to work, those entities are global, and they are competing with people who may indeed bring skills of intercultural and international competence," Taylor said. "If our students don't have that, they will be short on one of the core competences that is required to function successfully."