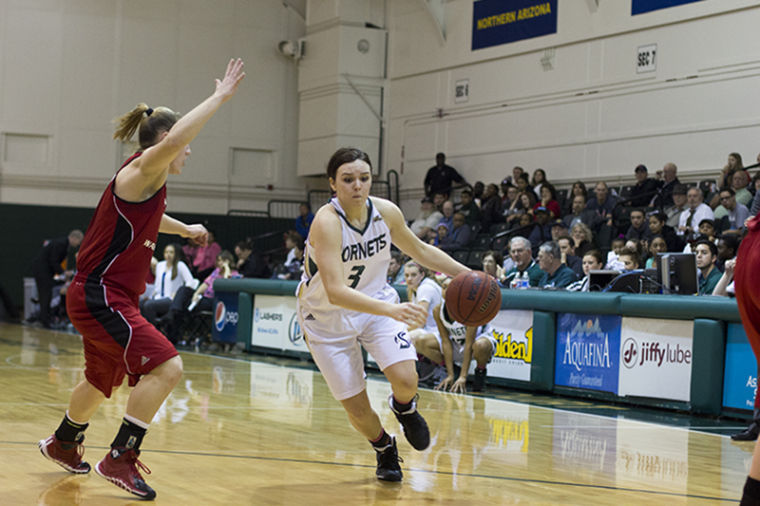 Sacramento State women's basketball team fell in the quarterfinal game against Southern Utah University in the Big Sky Conference Tournament, Thursday in Grand Forks, N.D.
The Hornets lost to the Thunderbirds 86-78, and were knocked out of the tournament. Sac State finished the season with an 18-12 record, including a 10-10 mark in conference play.
Sac State entered the game ranked as the seventh seed in the tournament, while Southern Utah came in as the second seed.
Hornets head coach Bunky Harkleroad said he was disappointed by the loss, but was proud of his players for the way they played throughout the year.
"I think our players did a great job this season," Harkleroad said. "It was a tougher year for them than people realize because they had to make so many adjustments, but I'm really proud of our team."
Sac State opened the contest with a 24-12 lead, but saw it evaporate after an 18-0 run by the Thunderbirds.
Harkleroad gave credit to Southern Utah, citing the team's performance on both ends of the court.
"They're a very good team and they had some players step up and hit big shots," Harkleroad said. "You have to give them credit."
After securing a 33-31 halftime lead, the Thunderbirds never looked back.
In her final game as a Hornet, senior guard Alle Moreno, who scored seven points, said the loss was frustrating but that she was pleased with her team's effort.
"It's always frustrating losing to a team three times in a row," Moreno said. "We gave them a tough game and everybody gave it their all. As a senior who won't be coming back, that's all you can ask for."
Hornet's freshman guard Gigi Hascheff scored a game-high 25 points on 8-15 shooting, including 5-11 from 3-point range. Sac State junior point guard Fantasia Hilliard recorded a double-double with 15 points and 10 assists.
Southern Utah was led by its guards, junior Hailey Mandelko and redshirt junior Desiree Jackson, who combined for 41 points on 13-21 shooting.
Sac State shot 46.7 percent overall and went 11-28 from 3-point range. The Thunderbirds shot 49.1 percent and outrebounded the Hornets 37-29.
The Hornets' finished their season 0-3 against the Thunderbirds, with Thursday's 8-point loss being the closest in margin of defeat.
The contest marked the final game for Sac State's seniors – guards Moreno, Se'Nyce Parrish and forward Sadie Clements.