Softball returns home after demanding road trip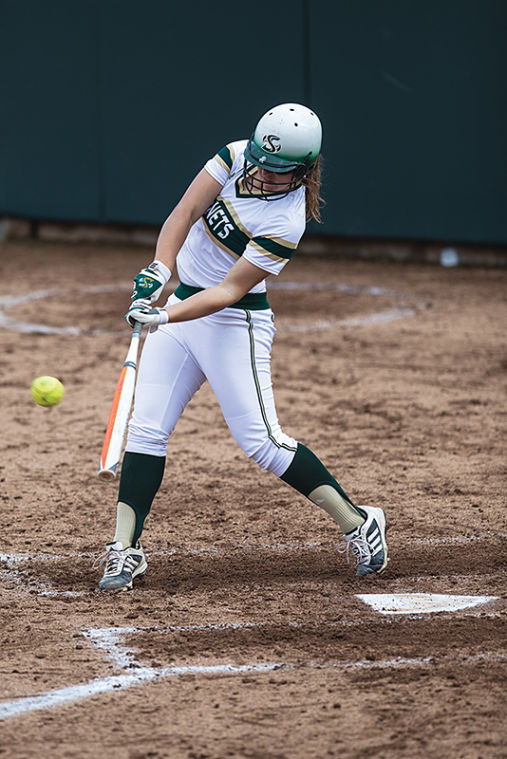 State Hornet Staff
March 11, 2014
Sacramento State softball is already looking for a much needed break from road play this season, having spent 19 of the previous 20 games on the road.
The Hornets return home Friday when they will play 11 games at home.
The Hornets will play Cal State Bakersfield March 15-16, Princeton University March 18, the University of North Dakota March 21-22 and Southern Utah University March 28-29.
"I am excited to be playing at home," said sophomore pitcher Jennifer Hartman. "We are going to use this homestand to find our groove and consistency that we have lacked so far this season."
Up to this point of the season, Sac State is currently 8-9, the pitching staff has allowed the fewest runs a game this season in the Big Sky Conference with a 2.10 ERA. The Hornets rank second in batting with a .275 average.
The Hornet players are looking forward to much needed time at Shea Stadium.
Hartman, who is the Hornets third starter on the staff, has done well recently despite her season record of 1-2 and 4.81 ERA. At the Cal Poly Mustang Classic tournament she allowed four runs in one start and two relief appearances.
Although Hartman lost the game against Stony Brook March 7,she settled down after the second inning, only giving up one hit and sat down six straight batters at one point in the game.
Hartman also was brought in relief appearances in the last three games of the Mustang Classic, relieving sophomore pitcher Kaitlyn Yerby, junior Caitlin Brooks and senior pitcher Taylor Stroud.
She pitched a combined five innings of relief including both games against Cal Poly and Fairleigh Dickinson.
Sac State looks to better its home record. Its lone win so far this season came last week on March 4, against Causeway Cup rival UC Davis, beating the Aggies 5-0.
Starting off right at home by winning games at home, usually means a successful season for the Hornets. There were three years in which Sac State used its homestand as a slingshot to winning conference and qualifying for the NCAA regionals in 1993,1995 and 2008.
The best year by far was in 1995 in Sac State history in terms of total wins (40), winning percentage .727 and was ranked eighth in the nation, which is still the highest ranking in school record book. Its home record that year was 28-6, including a home record of 10-3 in Western Athletic Conference play.
Sac State also had three consecutive years in which it finished with 30 wins, after winning 10 of its first 15 games at Shea Stadium, from 2004-2006.
From a coach's standpoint, there is no burden of trying to make sure the travel arrangements are met before going on these road trips when the Hornets play at home.
"It will be nice to be somewhere we are comfortable, which is our home turf," Perez said. "We like playing at Shea Stadium."
The coaching staff is hoping for a better start in conference than last year's team in its first season in the Big Sky. Last year Sac State was 3-3 to start the season in conference, which translated into 7-8 regular conference season record.
The Hornets are excited to have a bigger support group when they play at home this weekend.
"It's going to be fun to have a much bigger support at the home games than when we were on the road," Hartman said.
The Hornets will start the 11-game homestand on Saturday against Cal State Bakersfield at noon.
Clifton can be reached on Twitter at @jonesSHsports