Hornets lose despite solid pitching effort from Leitao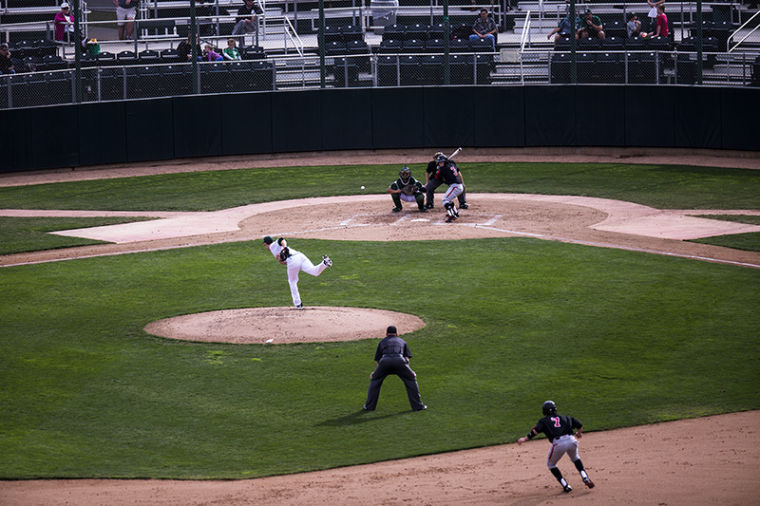 State Hornet Staff
March 14, 2014
Junior starting pitcher Brennan Leitao's seven inning performance was not enough as the Sacramento State Hornets fell to the University of Minnesota Golden Gophers, Friday at John Smith Field.
Leitao gave up just two runs while striking out three in the 2-1 loss.
Down a run with one out and a man on first in the bottom of the ninth inning, Hornets freshman second baseman Brandon Hunley hit a long fly ball to left-center that was ultimately caught by the diving centerfielder.
Pinch runner, senior Scott Loper, was doubled off of first base as he was rounding third at the time of the catch.
Minnesota was led by its pitching with starter Alex Crawford going six innings allowing one run and getting the win. Relief pitcher Dalton Sawyer earned the save by pitching the final three innings and not surrendering a hit.
It was the fourth game in a row that the Hornets have only scored one run. All four have resulted in Sac State losses.
Throughout the nine innings of play, the Hornet infield was constantly on its toes as Leitao induced 14 ground ball outs. Junior shortstop Scotty Burcham made several quality plays in the infield and likes all the action that comes his way when Leitao takes the mound.
"Whenever Brennan pitches, he pitches with a lot of run," Burcham said. "It sinks and they tend to hit a lot of ground balls."
Leitao has become a ground ball pitcher and cites his 2-seam fastball as the culprit for getting guys out.
"Part of it is sink, just a 2-seam fastball has the tendency of guys just getting on top of that and rolling it over," Leitao said. "I'm not really trying to do it, it just kinda happens."
Leitao pitched well on the mound and is now 1-3 on the season and will likely see his next start happen in conference play.
"I felt good, probably the healthiest I've felt all season," Leitao said. "Hopefully roll out into conference play in a couple weeks."
Head coach Reggie Christiansen was no fan of the outcome but was positive about how the way the team battled throughout the game.
"I actually thought early on we swung the bat pretty good, we lined out a few times, Scotty Burcham was much better today," Christiansen said. "Their pitcher was good."
The Hornets struggled to bring home men on base, leaving eight stranded. Sac State has only scored 10 runs in its last six games.
"We got to find a way to overcome this little stretch that were going through right now offensively," Christiansen said.
Sac State will take the field against the University of Minnesota on Saturday at 2 p.m. at John Smith Field.
Curtis Manlapig can be reached on Twitter @CTMstatehornet