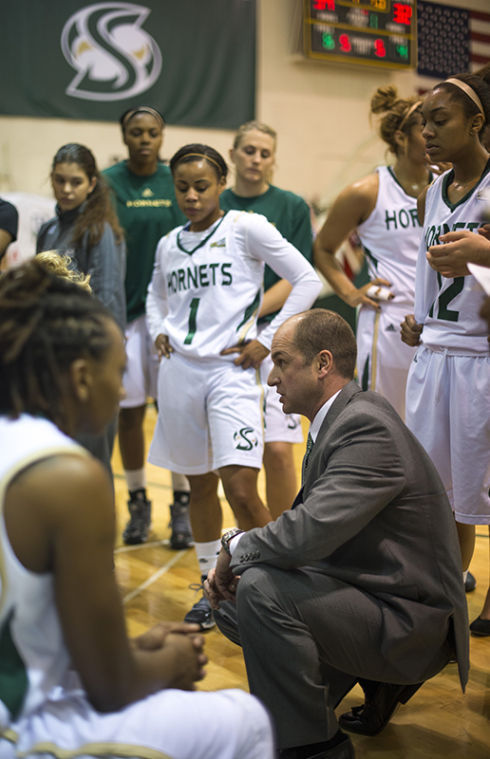 Sacramento State women's basketball has had its best start to a season in program history, with a 16-7 record through 23 games to this point.
Considering a women's team at Sac State has never won more than 19 games in a season, this years squad is on pace to surpass that mark.
First year head coach Bunky Harkleroad, who replaced Jamie Craighead in the offseason, said it has been a great experience for him thus far.
"Everyday I wake up I'm thankful for the opportunity and I'm learning more than I ever thought I would," Harkleroad said. "I'm so thankful for this team and the coaching staff."
The Hornets started off with 11 victories in their first 12 games, but have gone 4-6 since. Sac State's 7-6 record in the Big Sky Conference has put the team in fourth place in conference play.
Despite significant injuries to senior guard Se'Nyce Parrish and redshirt junior guard Andrea Chenier, Harkleroad has been impressed with the way the team continues to battle.
"We've had some adversity in terms of people getting injured, but we're getting better," Harkleroad said. "We've had a wild ride already and I still think our best basketball is ahead of us."
For Hornets' senior guard Alle Moreno, her final season has been dedicated to helping her team make it to the Big Sky Conference tournament.
"It's been good and we're right where we want to be in the Big Sky," Moreno said. "If we get some more wins, then we are where want to be, and that's in the conference tournament."
With six freshmen on the roster, Moreno has been a mentor on and off the court, something she said has been easy with this group.
"It makes me sad when I think about graduating, but these freshmen have come in and have been awesome," Moreno said. "They've had a huge impact on our program and it's going to be fun looking back in a couple years and seeing what they have done for our program."
Statistically, the Hornets lead the Big Sky this season in scoring at 88.6 points per game, and are second in the nation behind Oregon.
Sac State also ranks first in Division I women's basketball with 12.8 3-point attempts per game, and 14.2 steals per game.
Despite the impressive numbers, first year assistant coach Derrick Florence said there is always room to improve.
"For us we have to remain focused and try to stay healthy," Florence said. "We've got to clean up some of things we've messed up on and stay focused overall on what our game plan is."
Harkleroad agreed with Florence and said the team's experience will be crucial during the final stretch of the season.
"You have to have the highs and the lows, and you have to learn from it," Harkleroad said. "We just try to reinforce what's right."
Satchi Hover can be reached on Twitter @SatchiHover