Wildcats get payback on their home court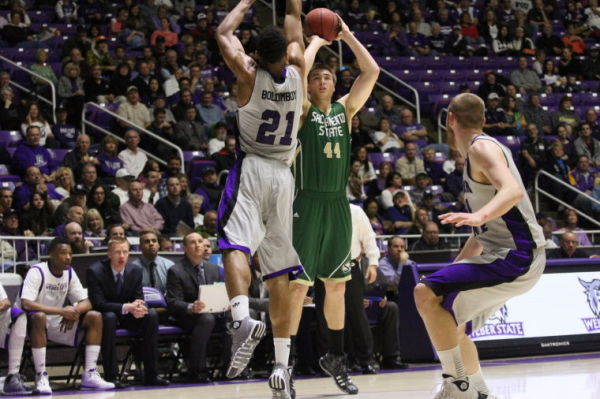 State Hornet Staff
February 27, 2014
OGDEN, Utah – With Weber State having won 49 out of the last 50 Big Sky Conference games, winning in Ogden, Utah has proven to be nearly impossible for conference opponents.
Although Sacramento State cut Weber State's second half lead to only four points, the Wildcats prevailed 79-67 Thursday night at the Dee Events Center.
But Hornets' head coach Brian Katz does not attribute the home court advantage to their loss.
"They do a great job, but the home [fans] are not the ones scoring the baskets," Katz said. "They won the game because they out-rebounded us, had a higher field goal percentage and made it to the free throw line more."
The Hornets were out-rebounded by 11 and shot 46 percent from the field.
Junior point guard Dylan Garrity, who hit a 75-foot buzzer beater against Weber State on Feb. 1, said they were playing a team with a chip on their shoulder.
"I know I would [have a chip of my shoulder] if they beat us like we did," he said. "They came ready to play."
Garrity finished with only five points and was 2-10 from the field. He also missed all four of his 3-point attempts, but credits the Wildcats with playing tough defense.
Weber State started the game making 10 out of its 13 shots and 4-5 from 3-point range, forcing Sac State to take a quick timeout.
"We were ready to go, but they shot the ball and executed their offense really well,"Katz said. "It's hard to come back when you get behind on the road."
The Hornets responded with a run of their own as they brought the game within as much as 2 points with 1:41 left in the first half.
As the first half ended, junior guard Mikh McKinney had scored 13 points and finished the game with 21 points and nine assists. 
Freshman center Eric Stuteville also finished with a career high 18 points. He had eight rebounds and hit his second 3-pointer of the season. 
"We've been talking about (shooting) trail (3-pointers) all week and if I have the open shot, I'm going to take it,"  Stuteville said. 
Katz said he is getting better every day, but did not know when he would reach his full potential as a dominant center in the conference.
"We've always felt he was going to be this type of player," Katz said. "The timeline was hard to predict."
Although the Hornets cut their deficit down to 11 with 5:16 minutes left in the game, Wildcats guard Jordan Richardson hit a 3-pointer to put the game out of reach.
Sac State drives to Idaho State to face the Bengals on Saturday, and Katz knows how important each win is with the conference season coming to a close.
"Every game is a must win," Katz said. 
Tipoff is at 6:05 p.m.
Ryan can be reached on Twitter at  @rskuhn