Track and field changes tactics for outdoor season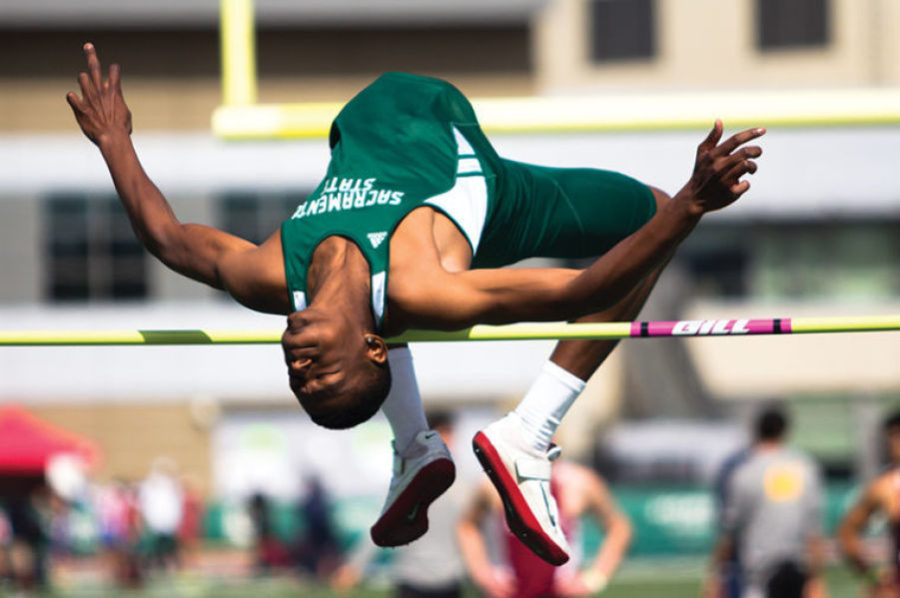 State Hornet Staff
February 19, 2014
In most sports, athletes compete in one season, they qualify for one postseason, and take home one trophy.
Track and Field is not one of those sports.
Track has the rare distinction of having two different seasons in one calendar year, and by no means are they the same.
"The biggest difference is that the track is smaller," said associate track coach Terry VanLaningham. "Different indoor tracks have different setups."
Outdoor tracks are set up on flat surfaces, making it a completely different race for the runners. An outdoor race such as the 100 meter dash is cut almost in half indoors.
"Going from 100 meters to 60 meters is really difficult," said senior sprinter Morgan Pope. "If you start off bad, you're going to have a bad race. It's very difficult to make that time up."
Other races such as the 200 meters are also different at each meet. The elevated surface provides a unique challenge for outdoor runners.
"Outdoors the 200 has a straight turn where indoors it's a banked track," Pope said. "Gravity pulls you down, so you have to stay inside the lines."
Runners aren't the only ones on the team affected by different track types. Jumpers also face difficulties dealing with indoor tracks.
"As far as jumps go, you train on an outdoor track all the time," said Julian Young. "Outdoor had a flat runway, where indoor has a raised runway. It's a lot of adjusting."
Preparation for the indoor season can prove difficult for outdoor-heavy track programs. Because there are no indoor tracks in California, the Hornets often start behind the 8-ball.
"It's definitely a disadvantage. The competition trains on those tracks day in and day out," VanLaningham said. "The more you do it, the better you get at it."
Having two seasons makes preparation extremely important for the Sac State program. For many athletes, the constant preparation can be a shock.
"Because indoor is before outdoor, the beginning of the season is earlier than what people are used to," Pope said. "It's hard to get ready faster coming off Christmas break."
The indoor season approaches very quickly. It ends even more quickly, making it very difficult to prepare for than outdoor track.
"We don't go to very many indoor meets," VanLaningham said. "Our indoor season is very short, so it doesn't allow us to get used to indoor."
Even with these difficulties, the Hornets have still found a way to be successful during the indoor season. The women have owned indoor conference championships in 2008, 2010, and 2011. The men won titles in 2007, 2008, and 2011.
"Every now and then indoor competition had been a little stiffer for us," VanLaningham said. "It hasn't been unbelievably bad because we've won quite a few indoor championships recently."
Weather and the elements play a factor in competition, especially for indoor meets. Having to travel to higher altitudes, as opposed to running on flat surfaces outdoors really makes a difference. The Hornets have three high-elevation meets on their schedule this season.
"Montana State, Idaho State, and Northern Arizona are all at high elevations," VanLaningham said. "Northern Arizona is over 7000 feet, so that's a big negative."
Events are set up differently at both events. Out door is spread out over different sections, while indoor is concentrated in one location. It gives the meet a different feel.
"At outdoor events, everyone is all over the place," VanLaningham said. "It's like having a half of a basketball team playing one one court, and the other half playing on another court."
Having meets indoors also provided a fan-friendly environment. The venues put the fans in the middle of the action.
"Indoor track is fun because the venue is smaller and everything is closer," VanLaningham said. "It gives the meet more of a competitive environment. It's more fan-friendly."
Regardless of the differences, the Hornets are focused on competing hard, and winning championships; two goals both seasons have in common.
"Our goal is to win both indoor and outdoor championships," Young said. "We take it one meet at a time because that builds championship teams."
Josh Leeper can be reached on Twitter @SH_Sports