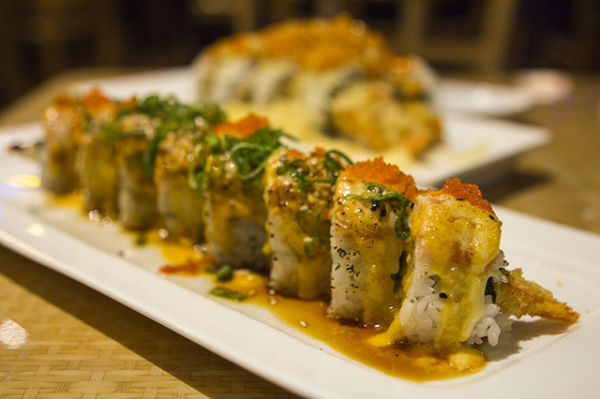 With a number of sushi restaurants near Sacramento State, Sushi Hook has become the spot where students go to enjoy quality and affordable food.  
Located on Howe Ave, less than three miles from campus, Sushi Hook offers a variety of sushi to please everyone's taste. And with 50 percent off every roll on the menu, it is one of the reasons the restaurant is popular amongst Sac State students.
Sushi Hook opened in 2007 when owner Chuck Kim moved to Sacramento from Berkeley. Kim previously owned a sushi restaurant near UC Berkeley.
"I used to charge full price for a sushi roll," Kim said. "My whole concept now is that I don't want to cheat the customer."
Kim said he wants to make sure customers are always satisfied with not only the quality of the food, but the amount of it.
"In other places that offer 50 percent off sushi use half of [seaweed sheet], which means sushi is smaller," Kim said. "We're using a full [seaweed sheet]. Bigger [seaweed sheet] means you get more."
Sushi Hook's number one seller is the "Crunch Monkey," which is a sushi roll with deep fried shrimp, cucumber, crab meat, tempura flakes topped with a creamy, spicy sauce.
Ethnic studies major Briana Lawrence-Mcgowan said the "Crunch Monkey" is her favorite.
"I love the fact that their sushi tastes fresh and authentic and the pricing is the icing on the cake," said Lawrence. "Their rolls are always 50 percent off, so I'm getting quality sushi without breaking my pockets."
Kim said nearly 60 percent of Sushi Hook's customers are Sac State students.
Other favorite sushi rolls for students are the "Golden Dragon," "Lion King" and the "Island".
With the popularity of Sushi Hook with students, the restaurant named two of its rolls the "Hornet" and "Sac State."
Decorated with Japanese style lanterns, geisha dolls and sake bottles, Sushi Hook's cultural look creates an environment for everyone to enjoy.
This late night spot is always bringing the crowd in. Although always busy, the restaurant manages to give everyone its best and fastest service.
"It's never super crowded when I dine in and they have your food ready super quick when getting take out," Lawrence-Mcgowan said.
Although employees are expected to have excellent customer service, Kim said he continues to try to make the restaurant's quality of service even better by requiring his employees to attend seminars every other week.
Another Sushi Hook special is the 99 cent sake bomb during the weekend.
"It's affordable and you get free edamame when you check in on yelp," said Sac State liberal studies major Briana Zamora.
And for those who may not like sushi or have a different craving, Sushi Hook also offers vegetable, teriyaki chicken and beef bento boxes, rice bowls and noodles.
Although limited on dessert, Sushi Hook's tempura, green tea and mocha ice cream offers a different yet flavorful taste.
Whether craving a simple or intricate sushi roll or perhaps a large entrée, Sushi Hook's deals and quality of food will turn new customers into regulars.