Softball loses 1-0 to UC Davis in season opener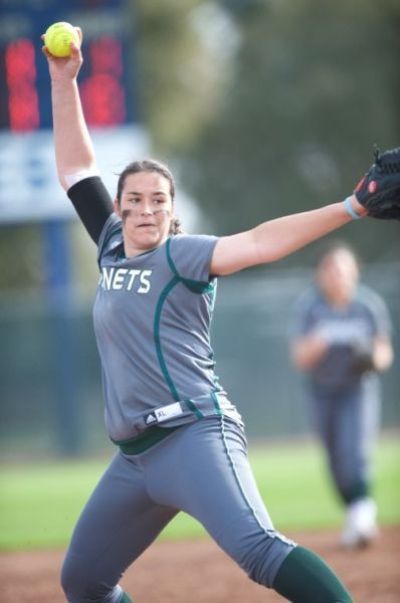 State Hornet Staff
February 13, 2014
Sacramento State's junior pitcher Caitlin Brooks struggled to find the strike zone Wednesday as the Hornets lost to UC Davis at La Rue Field.
Sac State lost 1-0 in it's first game of the 2014 season.
The Hornets and Aggies were held scoreless after three innings until Brooks walked the bases loaded thanks in large part to two illegal pitches. With the bases loaded, Brooks allowed her defense to make a play, but a mishandled ball by senior shortstop Yesenia Alcala led her to get the out at first instead of throwing home for the force-out.
"It happens, I mean she had a bad grip on the ball," Brooks said. "I am happy she did not throw the ball and have it get away from her so another run could score on us."  
Brooks finished the game with 123 pitches thrown in six innings, she allowed three hits and one earned run. The junior also had a total of four illegal pitches in the game.
"Its annoying for anyone that goes through it," Brooks said. "But as a pitcher you can't focus on what the umpire is doing you have to worry about helping your team."
Sac State showed the rust with its bats as many of the batters swung at early pitches in the count. The Hornets had 10 batters that swung at first-pitch strikes.
Head coach Lori Perez said nerves were a reason for the struggles at the plate.
"We never really squared up on the ball and when we did, we hit right at Davis," Perez said. "We are pretty happy at what we saw at the plate with our girls, it being the first game and all."
Sac State's best chance to even up the score came in the sixth inning when sophomore catcher Kortney Solis drew a four pitch walk and her pinch runner, junior outfielder Nicole Clark, was bunted over by junior right fielder Paige Martin moving Clark into scoring position.
The Hornets threat ended when sophomore first baseman Sasha Margulies grounded to first and pinch hitter, freshman Alexis Martinez, flew out to right field.  
Brooks was not the only pitcher that struggled with command in the game. Davis' freshman pitcher Dana Kruse allowed three walks and two hits; however, she kept the Hornets off the scoreboard.
The Hornets will hit the road to participate in the Fresno State Kick-off tournament. Sac State will play Friday against both UC Santa Barbara at 11:45 a.m. and Fresno State at 4:15 p.m.  
Clifton can be reached on Twitter at @jonesSHsports