Point guard Dylan Garrity hits a 75-foot shot with no time remaining to stun Weber State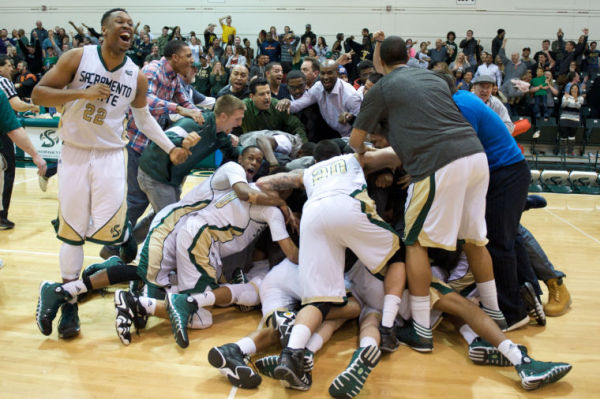 State Hornet Staff
February 2, 2014
While most players dream about making a buzzer beater in a Division I college basketball game, Sacramento State point guard Dylan Garrity's dream became a reality.
Garrity made a 75-foot shot at the buzzer to defeat Weber State, 78-75 in overtime Saturday in front of a nearly sold-out crowd.
After the Wildcats tied the game on a 3-pointer from senior guard Davion Berry with less than a second remaining, Garrity had his most surreal moment of being a college athlete.
"I just let it go and let God do the rest," Garrity said. "This was one of the most intense games I have ever played."
The Hornets came into the game losing their last 12 games against Weber State, but improved their record to 8-11 and 4-6 in the Big Sky Conference.
"I've never been a part of a game like that in my 38 years of coaching," said Sac State head coach Brian Katz. "When he threw it up I didn't think it was going to go in."
Not only did the game feature 17 ties and 18 lead changes, but Garrity's play became the "SportsCenter" top play of the night.
Garrity's family, who lives in Huntington Beach, Calif. gathers to watch every Sac State game on their big screen TV.
"I didn't have enough breath in my lungs to scream loud enough," said Garrity's father Mike. "I've been watching him since he was four years old and that was the most amazing shot he has ever made."
Before the Weber State game, Garrity said that he rarely used social networking sites such as Twitter, but since the video of the 75-foot shot was shared by everyone, he has started Tweeting.
"I had like 50 followers before and now I have close to 200," Garrity said. "It's been absolutely insane."
Weber State arrived having won its last six games and had a one-game lead on second-place Northern Colorado in the Big Sky standings.
"Our theme since the Northern Colorado game (last week) was being fearless," Katz said. "Tonight was the first time that there was no backing off."
Sac State kept the game close throughout, but the Wildcats responded in the second half with a pair of free throws by senior center Kyle Tresnak with 2:53 left in regulation.
The Hornets had a chance to win with the last play, but could not get a shot off and the game entered overtime.
In overtime, freshman forward Nick Hornsby hit a lay-up with 34 seconds left to put the Hornets ahead, 71-70.
On the next possession, Weber State had a chance to go ahead as much as three points when Berry was fouled and Katz was given a technical. Berry only made two out of the four free throws.
Sac State took the lead when Weber State was called for two technical fouls after trying to call a timeout with none remaining and for its coach arguing. Junior guard Mikh McKinney hit four straight free throws.
He said they were the biggest shots of his life.
"All that was going through my mind was taking one shot at a time," McKinney said. "These are the big times we prepare for as a basketball team and I just had to seize the moment."
McKinney finished the game tying his career high of 30 points and added six assists and five rebounds.
When Berry hit his 3-pointer to tie the game, Katz said he started preparing for the second overtime.
Aside from Garrity and McKinney, freshman center Eric Stuteville finished with 14 points, nine rebounds and was 8-8 from the free throw line. Hornsby also finished with 11 points and five rebounds.
"I've said all along that they are good and it was just a matter of time," Katz said.
The Hornets return to The Nest Thursday at 7:05 p.m. when they face Northern Arizona.
Garrity said this game could turn the team's Big Sky Conference season around.
"Not that we are going the wrong direction, but we are going to use this game as a momentum booster," Garrity said. "We just took down the No. 1 team in the conference on our home floor."
Ryan can be reached on Twitter at @rskuhn