Organization allows students to de-stress with dog therapy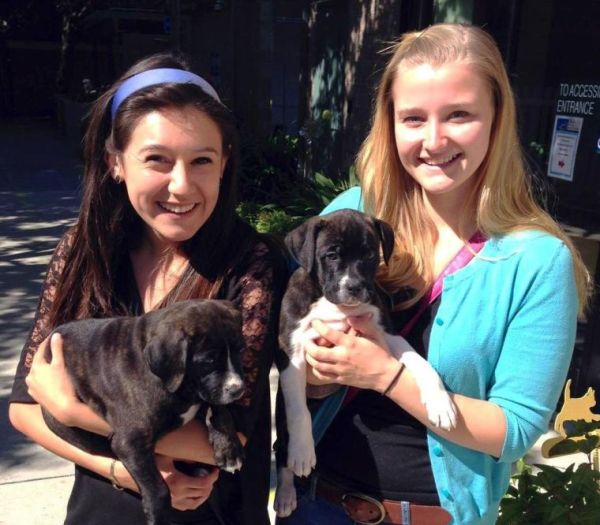 State Hornet Staff
February 26, 2014
A group of Sacramento State students turned to animal therapy to help release anxiety and create the club Pets for Stress.
The organization enhances student and animal wellness. Although it was created in spring 2013, this is the organization's first semester running and holding events.
"We weren't really out in the open last semester since no one knew about us, so we just concentrated on what our club was going to do this semester," said club founder Allie Rummerfield.
Many club members volunteer at animal shelters throughout the year and work with community groups like Lend a Heart Animal Assisted Therapy, which provides Sacramento with well-trained animals to be used in therapeutic settings.
According to the Animal Health Foundation, therapy pets are trained animals, primarily dogs, working in health institutions to help people with low blood pressure, respiratory patterns and social stimulation. They also increase confidence and self-esteem.
Student Health and Counseling Services Case Manager Katie Hogson said there have been studies showing how pets can reduce stress levels, offer companionship and help people feel they are attached to something meaningful in their lives.
"Pets for Stress has been asked to participate in the De-Stress Fest this May and we are looking forward to learning more about what they offer to students," Hogson said.
The De-Stress festival hosts a variety of activities and takes place during the week of finals to help relieve students from exam and essay pressures.
For safety precautions, members are not allowed to bring their own pets for therapy sessions, unless they are therapy dogs or a "canine good citizen," trained well-mannered dogs. Soon, the club hopes to give its members an opportunity to train their dogs.
For now, the club will continue to bring therapy dogs from Lend a Heart Animal Assisted Therapy. Therapy dog owners accompany their pets to Sac State and supervise interactions with students.
Public Relations Officer Jessica Decoque said bringing animals to campus allows students to relax and forget about any outside issues bothering them.
"It's just amazing how connected a human and an animal can be," Decoque said. "I can spend hours with them having a blast and feel less anxious or stressed."
One of the club's goals is to team up with a shelter and start an activity called "Rent-a-Puppy." This would allow students to rent an adoptable puppy for a couple of hours around campus for $5.
Rummerfield said animals have the compassionate quality that students need to relax.
"Animals give you a sense of confidence because they don't judge you, and they are easy to talk to," Rummerfield said. "It is really cool because not only do the students benefit, the animals do too, by having that interaction with people."
According to The National Institute of Mental Health, 30 percent of college students experience severe stress and depression, interfering with their daily activities.
Many students at Sac State feel there is not enough hours in a to manage work, school, organizations and personal relationships.
Photography major Vanessa Gonzalez said she is a full-time student working a job and internship and is always stressed.
"I think it's cool that they started that club. Being with my dog Cocoa helps me release my stress," Gonzalez said. "Animals can be stressful too though because they are like kids and you always have to be behind them."
Pets for Stress will host a volunteer orientation on March 2 at Front Street Animal Shelter to certify members and anyone else interested in working with animals.