Midseason momentum drive Hornets to fourth-straight win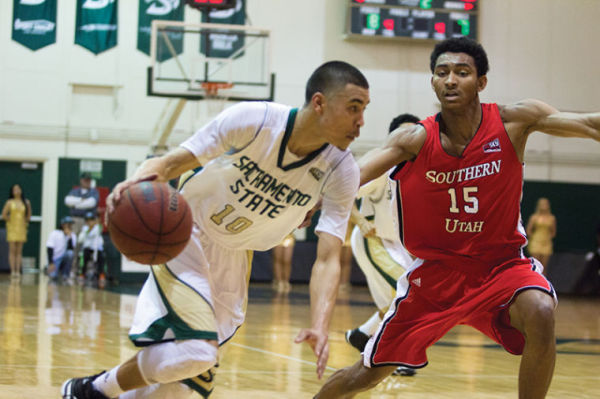 State Hornet Staff
February 11, 2014
Sacramento State men's basketball has finally broken even in conference play after notching its fourth-straight conference win for the second time in head coach Brian Katz's tenure.
The Hornets started the Big Sky Conference season 2-4, but won four of their last six games to move into a three-way tie for sixth place and are just one game out of second place position, which is currently held by four teams.
In the process, they completed their first 4-0 home stand for the first time in 32 years with a 68-56 win over Southern Utah University on Monday night.
"The biggest thing I was talking about all week long was maturity," said Sac State head coach Brian Katz. "We came out and we were very aggressive and set the tone."
Sac State started the game on an 11-0 run and stayed consistent as it held the Thunderbirds to 43 percent shooting and forced 13 turnovers.
"I enjoy playing defense," junior forward Alex Tiffin said. "It's something I take pride in and when you do things right, it feels good."
From the first day of practice, Katz said he stressed defense and rebounding. The Hornets currently sit third in the conference in defense and seventh in rebounding.
Tiffin has not been the highest scorer on the team, but has started 20 of 21 games this season because of his defensive presence. In the one game Katz started freshman Eric Stuteville, Katz said he did not like the rhythm of the team.
"I like Tiffin starting because (Jordan) Salley and [Stuteville] can come off the bench and score," Katz said. "Alex is so much ahead of the curve with his post defense."
Junior guards Mikh McKinney and Dylan Garrity were the team's leading scorers with 15 and 13 points respectively, while sophomore guard Cody Demps finished with nine points, seven rebounds, three assists and a steal.
Since being inserted in the starting lineup when the season started, Demps improved in every statistic from his freshman campaign and said his team is just playing with so much confidence.
"It always feels good to win," Demps said. "The homestand helped a lot."
Sac State takes its winning streak to Eastern Washington Thursday where it has won the last two meetings on Reese Court.
"Right now we can say we might be the hottest team in the league," Katz said. "But every [win] on the road is an upset."
Tipoff is at 6:05 p.m. and can be viewed on www.americaonesports.com/bigsky.asp
Ryan can be reached on Twitter at @rskuhn