Smith's 24 points help Hornets cruise to their first Big Sky win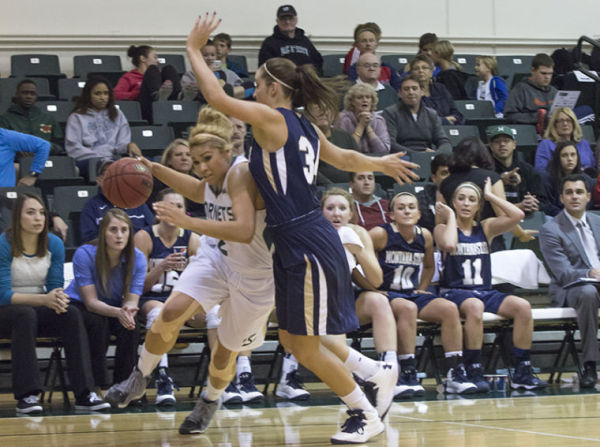 State Hornet Staff
January 3, 2014
It doesn't matter what role you play on Sacramento State's women's basketball team, you have a chance make an impact.
In the ten games the Hornets have played this year, five different players have led the team in scoring.
During Thursday night's Big Sky Conference 107-95 win against Montana State, it was Shanti Smith's night.
Although she did not finish the game with a team high in points, the junior forward from Denver surpassed her career high with 12:26 left in the game when she hit her second 3-pointer. She finished with 24 points, six rebounds and a block.
"I guess I was just in the right spots at the right time," Smith said. "If [the shot] is there, I'll put it up."
Smith was just one of the three Hornets who scored more than 20 points. Junior point guard Fantasia Hilliard scored 26 points while senior shooting guard Alle Moreno also scored 24 points.
"We have a number of players on this team that can step up on any given night," said Sac State head coach Bunky Harkleroad. "The beauty of this system is it allows for that."
The Hornets found themselves trailing early to the Bobcats by as much as 10 points midway through the first half when Jackie Elliot hit a midrange jump shot. 
Sac State tied the score at 44 with 3:40 left in the first half but would trail 51-50 going into halftime after missing six out of its last six shots.
The Hornets started the second half on a 13-7 run and would not look back as a trio of 3-pointers came from Smith and forwards Andrea Chenier and Sadie Clements. 
"We didn't really make any adjustments, we just hit some more shots and played a little harder," Harkleroad said. "I'm proud of my team for staying with it and picking up the energy level."
Although the Bobcats cut the deficit to down to four points with seven minutes remaining, Sac State went on a 19-7 run over the next four minutes that led to its ninth win of the season.
Hilliard gives credit to passing the ball more as she finished with 12 assists.
"In the second half we were making four and five passes (each possession) to get the defense moving and it allowed us to get open shots," Hilliard said. 
The Hornets' 9-1 record puts them as one of 22 teams in the country with one loss or less, but Harkleroad said there is a long way to go with 19 Big Sky games remaining, including one next Saturday against defending conference champion, Montana.
"If we don't play our best game of the season, it's going to be a long Saturday." Harkleroad said. 
Tipoff is at 2:05 p.m.
Ryan can be reached on Twitter at @rskuhn