New scoreboards update aging facilities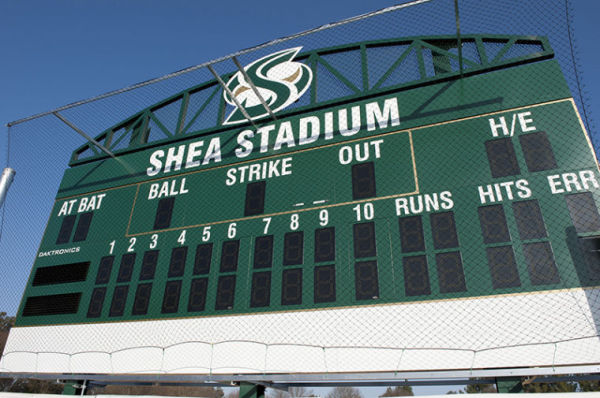 State Hornet Staff
January 29, 2014
Sacramento State has made some adjustments to the athletic facilities by replacing scoreboards to add a visual presence not seen in years past. The new scoreboards have been substituted on the soccer and softball fields as well as in The Nest.
The old boards that were outdated, but have been around for about 15 years. The new brand of scoreboards are called Daktronics, which makes customizable scoreboards for all fields and sports.
Sac State Athletic Director Dr. Terry Wanless said it was time to update the new scoreboards with new and better technology.
"We're always looking to find opportunities to improve our facilities whenever we can," Wanless said. "All of those boards were starting to age to the point that our concerns were they could literally stop working at any particular time."
A main reason for the switch was that if a malfunction were to occur, it would be hard to find parts that were made for boards as old as the ones Sac State previously had.
"We have more than gotten our money out of those boards in the past and feel really fortunate to extend them this long but technology changes so dramatically that if they do go down, it is very hard to get parts," Wanless said. "That was one of our concerns as we looked at this whole project, not only could we keep them going, but can we get the parts to keep them going."
Some of the highlighted features on the new scoreboards are the LED lights and the face size of the scoreboard is actually larger.
The softball board will read like a box score with a panel for each inning up to 10 along with runs, hits and errors panels. The new soccer board will include a total shots panel for both teams.
Each scoreboard will show each colleges team name digitally.
Along with the recently installed boards, Wanless said that there are more upgrades soon mentioning baseball and football.
"Both of those boards will be targets for us moving forward in to the future to find ways to replace them," Wanless said.
With the start of spring sports, Sac State now has some new scenery that is visually appealing to its fans.
Curtis Manlapig can be reached on Twitter @CTMstatehornet