The WELL strives to give students satisfactory experience despite concerns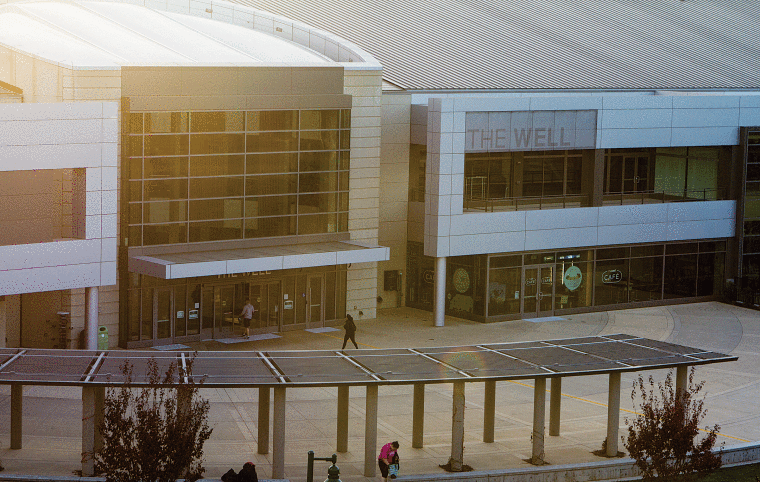 With comprehensive medical and mental health offerings, the Student Health and Counseling Services offers a collaborative approach to healthcare that offers both urgent and primary care to Sacramento State students.
Despite ranking consistently near the top of the California State University benchmark survey on patient satisfaction, the quality of care and the limited number of staff and services leave some students feeling disappointed.
Aneece McKinney, a 22-year-old child development major, said she utilizes the health services in particular because the convenience of having it available to her on campus, but has had questionable experiences at times.
"I've been misdiagnosed twice," McKinney said. "I was initially diagnosed with something that I didn't feel was right. After my appointment at the WELL, I went to Kaiser and they had diagnosed me with something completely different. Not only that, but I've been told other patients' information, which makes me think that confidentiality is lacking."
Located in the WELL and serving roughly 27,000 students, Student Health and Counseling Services is funded through student tuition. There are both physicians and counselors who work daily to address student issues, solve problems and educate about healthy lifestyles.
Victor Gellineau is one of the three physicians within the health services, said the center does have limits, but strives to give high quality care to students. He said he has not been informed of any dissatisfaction.
"We are not a hospital nor provide hospitalist services," Gellineau said. "We also do not offer nor have specialty services like surgery or neurology, and the urgent care is similar to most public urgent care clinics with the same scope of care and similar restrictions."
Gellineau said he believes students are satisfied with the services because of patient feedback and periodic patient satisfaction surveys, which McKinney admits she has not filled out.
"I've never done it because [the health care] is free," McKinney said. "Besides, I wouldn't even know where to go to complain and I'm graduating this semester anyway. I have found a doctor there that I like, but it just sucks that it took that long for me to be satisfied."
Joy Stewart-James, the executive director for the Student Health and Counseling Services, said it is dedicated to patient satisfaction and welcomes feedback from students.
"The patient experience is top priority for us," Stewart-James said. "We strive to be accessible, kind, helpful and provide exceptional care.  Students always have the opportunity to provide feedback to us using our website or on comment cards located throughout the facility.  We respond to all students within 72 hours to address concerns or questions that they may have."
Erika Rolufs, a 21-year-old speech pathology major, has not informed the WELL of her concerns after her experience visiting the health center for a tuberculosis test.
"The nurse who read my test was unsure of the results," Rolufs said. "They didn't really address the issue, but I just wish they would have been more knowledgeable so that I actually feel like I'm getting the services I should be getting with the tuition I pay."
Rolufs said aside from her negative experience with an appointment, her wait time was very minimal, but for urgent care the wait time is similar to those in public clinics, which may be an issue for students who have nowhere else to go.
Family and consumer science major Devon Paige, 21, was disappointed when she sprained her ankle last semester and went to the health center out of convenience, but instead waited as long as she would have elsewhere.
"It took over 30 minutes to be seen and then I was misdiagnosed," Paige said. "After that I just went to Kaiser."
Along with wait time issues within the health center, when it comes to counseling services wait times have increasingly become an issue for students who depend  on the convenience of scheduling a timely appointment.
Kate Hodgson, case manager for the counseling services, said the counseling center services approximately 50 percent of the Sac State student body every year with over 40,000 visits.
"Wait time for a phone triage with a counselor is approximately one to two days at this point in time," Hodgson said. "If a student wishes to engage in individual counseling, the wait time for intake varies depending on the time of semester."
Jason Conwell, regional staff representative for the California Faculty Association, said there is a direct correlation between wait times and the amount of counselors hired by the university.
"There aren't enough counselors," Conwell said. "I think the ones they hire are probably really good at their jobs, but when there aren't enough counselors and too many students in need of an appointment, wait times go up."
Conwell said that the International Association of Counseling Services, which accredits counselors hired by colleges and universities, makes the recommendation of having the ratio of one counselor for every 1,500 enrolled students.
Currently, Sac State has 12 counselors serving approximately 27,000 students, which means there is one counselor available for every 2,250 students.
Conwell also said he is concerned about Sac State hiring counselors to temporary positions.
"I have no doubt that they're hiring qualified people," Conwell said. "But now there's only one permanent employee, the rest are all just temporary. That doesn't mean they are not good at their job, it just means that they don't have the job security and connection to the campus that quite frankly, I think they should have."