Sac State basketball players adjusting to NCAA rules change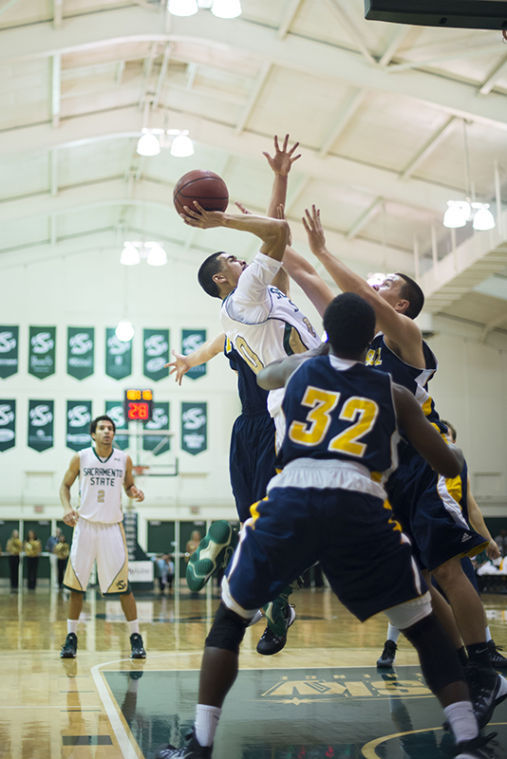 State Hornet Staff
December 11, 2013
During the first month of the 2013-14 college basketball season, the effects of an NCAA rule change are apparent as players and coaches have seen the amount of personal fouls increase in the early season.
According to the NCAA, the Men's Basketball Rules Committee voted last May with the changes intending to cut down the amount of physical play and encourage a more open style of play.
One change eliminates the ability of the defensive player to keep his hand on the opponent while guarding the ball handler. Another rule modification stops defenders from moving their feet while the shooter they covering is in the process of shooting or passing the ball.
"The rules in the book have always been there," said Big Sky Commissioner Doug Fullerton, who serves on the board of directors of the Men's Basketball Rules Committee. "It's just never been an emphasis."
Sacramento State is just one of the 351 Division I teams that has needed to adjust to the changes.
"This is a a situation that every coach and every team has had to adapt," said head coach Brian Katz. "Early on you are still trying to figure out how exactly they are going to call it, but now we have a pretty good idea."
Katz said during practice he had to convince his players not to use their hands while defending.  
In their first six games, the Hornets have committed 131 fouls, which is a  38 percent increase through the same amount of games this time last season.
Part of the problem Fullerton said, was previously no one had coordinated officiating as a national college basketball collective until now.
"Each conference had their own coordinator so we had 31 different opinions on how the game should be called," Fullerton said.
Over the past two to three seasons, Fullerton said the committee started to find ways for some consistency.
"This is really what the coaches want," Fullerton said. "Whether they play a game in New York or California, they should get the same kind of officiating."
Fullerton said not only did a rules change give the coaches what they want, but the fans too.
"We were having points in decrease in games where we were having halftime scores end up in the teens sometimes," Fullerton said. "There are no fans who are going to put up with that."
Despite the rule changes, Katz said there is always going to be incidental contact in any game of basketball.
"That's the part that is tough," Katz said.
Not only has Katz has talked to other coaches across the country to get other opinions about the rule changes, but he has changed his strategy of coaching.
"Offensively if you can get a guy to drive the ball (to the basket) pretty hard, you are going to have to call a foul." Katz said. "Maybe we need to drive more or get in the post more."
Junior point guard Dylan Garrity is in his third season playing Division I  college basketball and the amount of fouls he has been called for this season is 80 percent higher than in 2012-13.
"It is a little frustrating, but it is something you just have to practice and something you have to get used to," Garrity said.
However, he said he has never been the greatest defender because his lack of quickness.
With Sac State giving up 36 more fouls from last season, Katz said his team is not working on free throws anymore than normal, but it could be re-looked at.
"It's still at a stage where everyone is examining all of these things," Katz said. "It's going to be interesting, that is for sure."