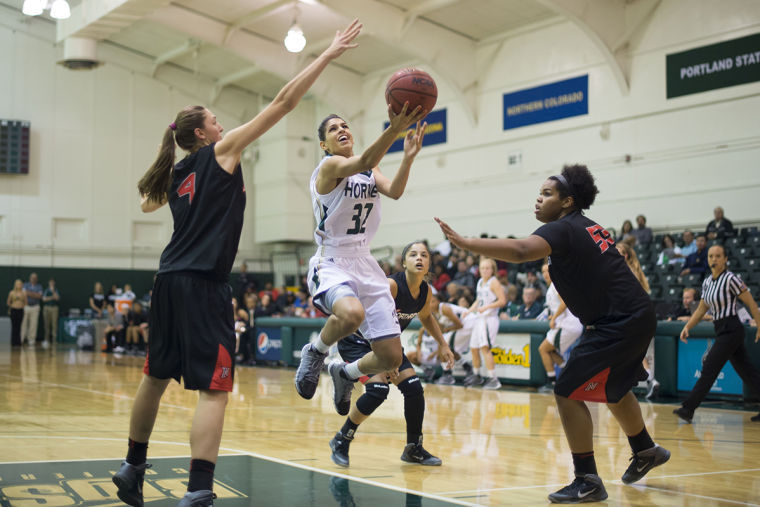 Sometimes players just need a change that is closer to home.
While playing basketball at New Mexico State may not have been the best fit for redshirt junior guard Andrea Chenier, but doing so at Sacramento State has proved otherwise.  
"New Mexico State was too far from home," Chenier said. "Their system wasn't for me. I did not like it and as a result, I did not do well."
In two seasons with New Mexico State, Chenier played just 21 games before making the decision to transfer after the 2011-12 season. She found herself at a standstill when selecting a new school.
"After I finished the transfer process, I thought I was not going to have anything," Chenier said. "I was worried about my next chapter after New Mexico, but I knew I wanted to move closer to home."
The 21-year-old Vallejo, Calif. native has had her ups and downs, but has found a way to make a name for herself through basketball. Chenier was just 5 years old when her father and older sister introduced her to the sport.
"I was always in the gym with my sister, and my dad would also bring us to the park to play," Chenier said. "My dad was really the one who pushed me to succeed."
As basketball was becoming a bigger part of her life, Chenier began playing competitively for the first time while attending Saints Peter and Paul Salesian School  in San Francisco.
"I had fun in middle school because it was really my prime, and things weren't taken too seriously," Chenier said. "It was a catholic school so it was a very tight knit community and all the parents were involved."   
After completing her middle school education, Chenier ventured across the Bay Bridge to Piedmont, a smaller city in the Oakland area.  
It was at Piedmont High School where Chenier's basketball skills started to develop under the guidance of head coach Bryan Gardere.  
"Originally after my sophomore year, I wanted to stop playing basketball, but Bryan helped me look at the long run," Chenier said. "He kept me going and we had a great relationship on and off the court."
In her final season at Piedmont, Chenier played a key role on her team, averaging 15.1 points and 4.5 assists per game. Piedmont finished with a 24-9 record.
Chenier chose to play college ball at New Mexico State, where she said things did not go as well as she had planned.
The concerns she had when deciding to transfer schools were quickly put to rest when help came in the form of her old high school coach, Gardere, who had been in contact with the former Sac State head coach, Jamie Craighead.
Craighead had been recruiting Chenier out of high school and was already familiar with the guard's level of play. Gardere's calls provided assurance in the decision to bring Chenier to Sac State.
"Bryan called Jamie and told her I was trying to transfer close to home and asked her if she had a spot for me," Chenier said. "She said yes, watched some tape of me and that was about it."
Transfer requirements forced Chenier to redshirt and sit out the entire 2012-13 season.
At season's end, Craighead left her position at head coach, leaving a void that was eventually filled by current head coach Bunky Harkleroad.
Harkleroad saw potential in Chenier when he first arrived on campus. While he did not have any expectations as to how she would do on the court, Harkleroad said  he knew she could be a key factor for the team.
"When I was given the opportunity to coach here, I didn't have any preconceived notions of Andrea's skill set or how she would fit in," Harkleroad said. "Now I've seen someone that's capable of a big game every time we play. She's good on both ends of the court and when she plays well, typically her team plays well."
Senior guard and co-captain Alle Moreno, expressed similar sentiments when discussing Chenier's abilities on the court.
"I have been playing with her for just this year and I love having her as a teammate," Moreno said. "She is such an unselfish player and she is really important for our team."
In the Hornets' five games this season, Chenier has averaged 10.4 points per game and has shot 35 percent from 3-point range while getting 20 minutes per game.