Sac State looks to avoid three-game losing streak at Portland State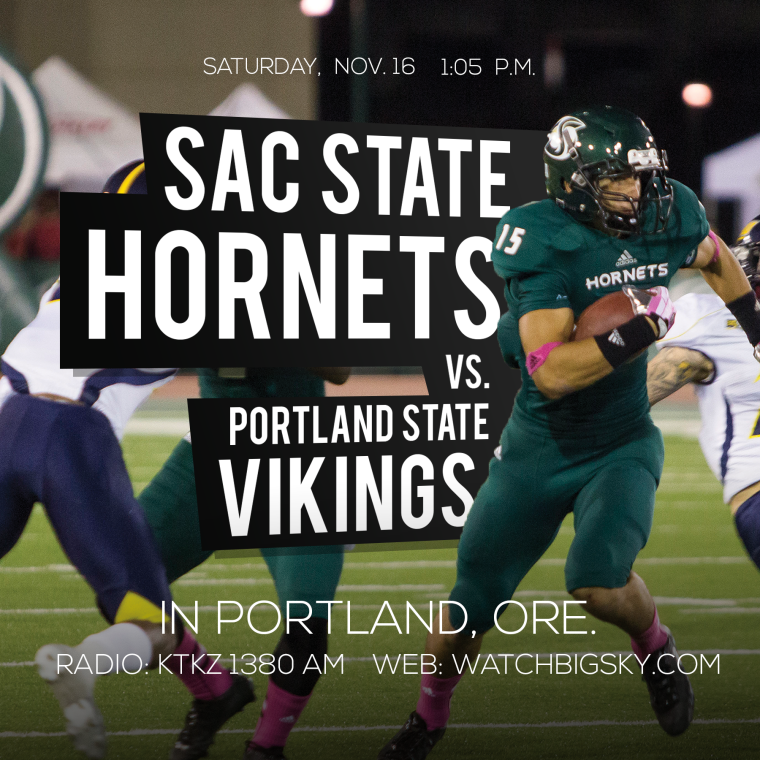 Matchup: Sacramento State Hornets at Portland State Vikings
Records: Sac State: 4-6,(3-3); Portland State: 6-4, (3-3)
Where: Portland
When: Saturday, Nov. 16 at 1:05 p.m.
Players to watch:
Senior linebacker Todd Davis: Davis has been the anchor on the Hornet defense this season and leads the Big Sky Conference with 107 tackles. He has six games this season in which he accumulated 11 tackles or more and during his last game against Cal Poly, he led all defenseman in tackles with 14.
Portland State senior running back DJ Adams: Adams is eighth in the FCS in rushing with 1,207 yards on 202 carries. He is second in the Big Sky with 13 rushing touchdowns and carried the ball 30 times for 201 yards and two touchdowns in last week's matchup with Idaho State.
Preview:
For the second straight week, Sac State will have to deal with a strong rushing attack, this time from Portland State.
The Hornets gave up 424 yards rushing to Cal Poly last week in a 42-7 losing effort. The Hornet defense ranks seventh in total defense giving up an average of 402.8 yards per game in Big Sky play.
The rushing attack from Portland State is led by Adams, who has averaged 120.7 yards per game on the ground. Adams is a transfer from the University of Maryland where he broke a freshman record scoring 11 touchdowns in 2009-10.
Against Cal Poly, the Hornet offense had its second lowest rushing output of the season running the ball 25 times for 54 yards.
Portland State's head coach, Nigel Burton, complimented Sac State on its play this season.
"I have no clue how those guys are 4-6. You talk about a balanced football team, they've got an emerging superstar in Garrett Safron," said Burton. "What a great job that (head coach) Marshall (Sperbeck) has done there."
This season, Safron leads the team with 2,514 yards passing and 23 touchdowns and on the ground, he leads the team with 416 yards on 119 carries.
Safron's favorite target this season has been senior wide receiver Morris Norrise. Norrise leads the team in receptions with 68 and is 15 away from breaking the single-season record.
"That would leave me in the history books," Norrise said. "I want to leave here with my name on something."
Portland State comes into this game on a three-game winning streak outscoring its opponents 97-65 in that span. Head coach Marshall Sperbeck is not taking the Vikings lightly this week.
"Portland State is very hot right now," Sperbeck said. "We know we got our hands full going up there playing them on Saturday."