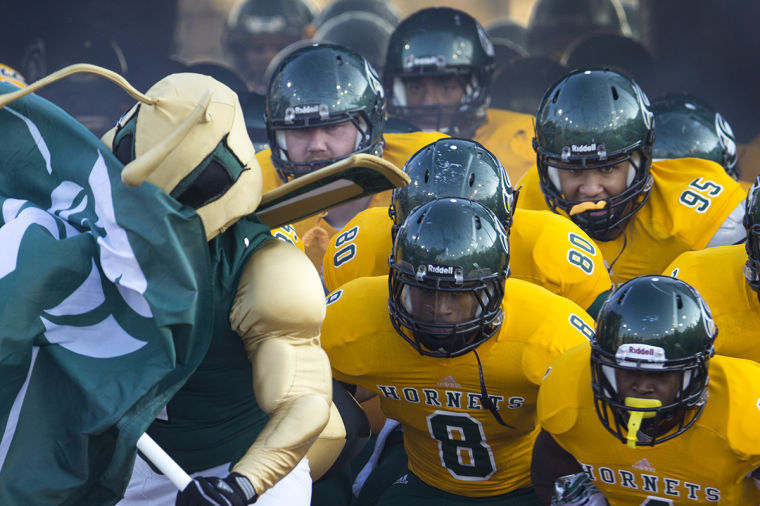 The UC Davis offense was efficient running and passing the ball Saturday, as it took down Sacramento State in the 60th edition of the Causeway Classic at Hornet Stadium.
The Hornets lost 34-7, its fourth straight loss in the rivalry game.  
Davis junior running back Gabe Manzanares ran for 122 yards on 27 carries and two touchdowns. It was his fifth straight 100-plus-yard rushing performance.
"Our (offensive) line was doing a great job," Manzanares said. "On that one touchdown run, I told them that was your guy's touchdown all the way. We could of took a big rig through that thing, (the hole) was huge."
Davis head coach Ron Gould was pleased with his running backs performance.
"Gabe (Manzanares) is the heartbeat of our team, the guy comes to work everyday," Gould said. "It's a testament of each and every one of these guys and what they stand for."
Throwing the ball, Davis senior quarterback Randy Wright was 17-22 for 212 yards and one touchdown. He started the game 9-9 until he threw his first incompletion mid-way through the second quarter.
Wright is now 4-0 as the starting quarterback for UC Davis in the Causeway Classic.
"We had a tough start to the season and just kept battling," Wright said. "We finished strong, ended the season on a two-game winning streak."
The Sac State defense surrendered 400 total yards of offense to the Aggies. The Hornets were hurt by its third down defense, giving up nine third down conversions on 14 attempts.
Senior Todd Davis led the Hornets in tackles with 12. Davis leads the Big Sky Conference in tackles with 131.
The offense for Sac State had a tough night putting up only seven points while averaging 33.6 points per game coming in. Head coach Marshall Sperbeck was disappointed in the outcome and said UC Davis was the better team on this day.
"Give Davis some credit, they had a good game plan, played well and executed well on offense," Sperbeck said. "Defensively, they kept us in check. They held us to seven points and we got to give them the respect they deserve coming into this game being ready to play."
Sac State was without junior wide receiver DeAndre Carter due to a high ankle sprain suffered last week against Portland State. Carter had 64 receptions and led the team with 14 touchdowns.
Sperbeck said missing one of their playmakers was a noticeable difference for them on the field.  
"It probably affects the quarterback more than anybody because that's his right-hand guy," Sperbeck said. "We didn't have him today, we missed him."
Senior wide receiver Morris Norrise led the team in receiving with six receptions and 101 yards.
Sac State had its largest crowd of the season bringing in 12,571 people in attendance.
The Hornets finished the season 5-7 overall and 4-4 in Big Sky play.