Moreno awarded Big Sky Player of the Week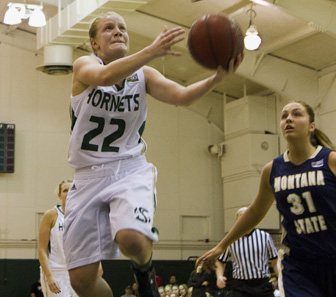 Women's basketball senior guard Alle Moreno was awarded the Big Sky Conference Player of the Week Tuesday for her efforts against Cal State Northridge and San Diego State.
Moreno averaged 19 points, 5 rebounds and 2.5 assists per game in the Hornets' season opening victories. She shot a combined 55.6 percent from the floor, including 60 percent from 3-point range.
Moreno scored 23 points on 7 of 10 shooting (6 of 9 from 3-point range) in the 93-89 victory over 2012-13 Mountain West Conference Champion, San Diego State, and set the Sac State all-time record for career 3-pointers with 177.
Moreno was honored by the acknowledgement but it's not her focus to garner individual accolades in her last season at Sac State.
"It feels great, but the most important thing was getting the two wins," Moreno said. "I know that I have to give everything I've got this year, so I want it to be as good as possible with the whole team."
Head coach Bunky Harkleroad was exuberant in his praise for Moreno.  
"It's a great honor for [Moreno] and I'm super proud of her," Harkleroad said. "She has played with such confidence and poise and has a great energy level. It is what you want your leaders to do."