Men's basketball cruises to a 30-point route over UC Santa Cruz.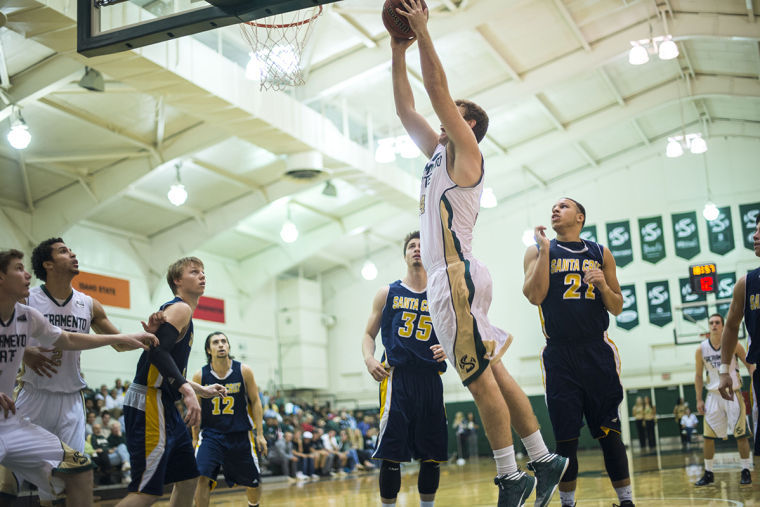 Behind a strong defensive display and an efficient offense, the Sacramento State men's basketball team tipped its season off Friday with a win against Division III UC Santa Cruz.
The 73-43 victory helped the Hornets extend their all-time record against the Banana Slugs to 3-0.
The undersized UC Santa Cruz team, which listed its tallest player at 6 feet 5 inches compared to 6 feet 11 inches from Sac State, could not find a way to score on the tall lineup of the Hornets who forced the Banana Slugs into missing their first 11 shots. UC Santa Cruz finished the game hitting 29.4 percent from the field on 15 of 51 shooting.
"The deal is they run great on-ball screens," Head Coach Brian Katz said. "Their coach used to be an assistant in the NBA so they run great stuff, and we saw their stuff and thought it was really good so we thought we can't let them run it. We just doubled down on balls, we doubled every on-ball."
Katz said the size difference allowed the Hornets, who at one point led by 35, to focus their defense on the outside in rather than inside out, which made the Banana Slugs force the ball to the interior.
"[Size] is why we didn't cover down on the post and we didn't double team the post," Katz said.
The Hornets aggressive defense put the team into foul trouble early in the first half as junior guard Mikh McKinney and sophomore guard Cody Demps, both starters, were hit with two early fouls apiece. Katz said the referees talked to coaches and players before the game about stricter fouls being called and more specifically, the use of forearms and hands.
"We're all trying to transition over to the new rules," McKinney said. "Last year it was a lot more physical and now they are just taking it away. We just have to get used to it. We're working on it."
Still, in only 19 minutes on the floor, McKinney was able to score 14 points with three rebounds and assists.
McKinney said he has changed his mindset to try and create more opportunities for his teammates after he had already shown he was a scoring threat last season.
Another contributor in limited minutes was the 6-foot-6-inch forward Jordan Salley. The senior did not miss a shot all night after going four of four while scoring 11 points in just 10 minutes of play. He also added three rebounds.
"I just wanted to be productive," Salley said. "Coach always wants me to be the player I know I can be and just go out, be aggressive and play above the rim and get rebounds. Most of my points came in the flow of the offense that was setup to pound it inside because of the size advantage."
Salley did not get a lot of minutes to start last season, but as he got into shape, he found more playing time. Katz said Salley has worked hard all offseason and after his play in the opener, he will earn more minutes as the season goes on.
Alex Tiffin is a player not used to suiting up in the green and gold after sitting out last season because he transferred from UC Davis, but he was productive in his Hornets debut. Tiffin added three rebounds and a steal to go along with his 10 points including a fast break dunk off of a no-look pass from McKinney. 
"I've definitely become more athletic," Tiffin said. "The dunk was because of Mikh (McKinney) and the good pass; I just put myself into the position to be able to finish. Of course, every time I go up and finish I want to make it as easy as possible by doing whatever gives me the best chance to finish."
As a team, the Hornets shot 56.5 percent from the field and came up with eight steals and 15 point off of turnovers. They also outrebounded UC Santa Cruz 41-31.
Other notable performances were from point guard and Dylan Garrity and freshman guard/forward Nick Hornsby. Garrity added 11 points and five assists in 30 minutes. Hornsby, who made his regular season debut for the Hornets, had 10 points, five rebounds and grabbed a steal.
"I told the team that people are going to say [UC Santa Cruz] isn't very good," Katz said. "I told them [Santa Cruz] is a good team, but we made them look like they were not very good."