Latyrx is 16 years out, not down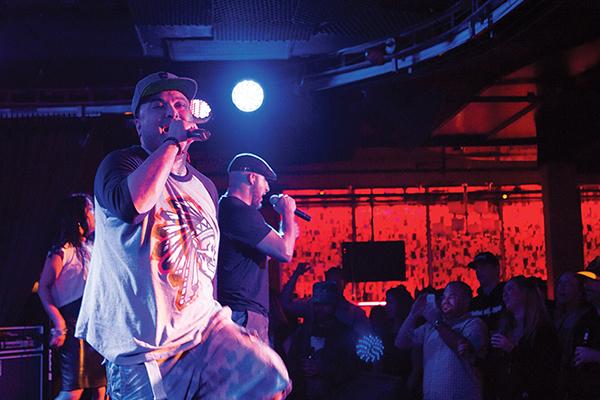 Latyrx's music has proven to be a fine, but strange wine. 
In the wake of a 16 year lapse since Tom Shimura (Lyrics Born) and Lateef Daumont  (Lateef the Truthspeaker) first collaborated, "The Second Album" was released Nov. 5. 
The alternative hip-hop duo has been touring together the past year as they reconnected with long-time followers and introduced themselves to a new generation of hip-hop fans. 
Although their absence may have been felt as a group, the two stayed busy working on separate projects since "The Album" was released in 1997.
"We always knew we would do another one," Shimura said. "It was just finding the time."
When it comes to working together, Daumont said it is a very organic process where the two discuss what is missing from the current conversation in hip-hop and music in general.
In the 16 year interval, there are definitely a lot of changes that have taken place in the world and left room for a frightening array of conversation. When asked what has changed since their first release, the two said "everything."
"We noticed when we made this album that a lot of the politically-tinged hip-hop had pretty much disappeared, yet there were so many things happening in the world and there was nobody really addressing that with hip-hop," Shimura said. "Nobody had really taken what we had done and ran with it, so we thought we could just pick up where we left off, but still do it in a modern way." 
Latyrx's first album was brought into fruition at a time when hip-hop was heavily influenced by gangster rap; its sound was experimental and, some may say, ahead of its time.
"Content-wise, we're not talking about popping pills and getting loaded in the club and menage a trois," Shimura said. "I think that is the contrast between us and I'm not hating because we were all that age."
Like some of the best wine and hip-hop in the world, Latyrx has its roots in Northern California.
While Daumont was studying African-American studies, Shimura was studying communications at UC Davis, where the two met through the college radio scene.
"If you liked music that is where you went," Daumont said.
Latyrx was part of a group of hip-hop underground that led to the formation of SoleSides, which would be the label that released its debut album.
"Anybody that was involved with any kind of music whatsoever – on any level, in any genre – was somehow involved with KDVS," Shimura said. "It was a much smaller community."
With the rise of the internet, the hip-hop community has gotten larger and it seems "The Second Album" has tried to explore catering to a variety of tastes. 
As one listens to the album, it might seem like a mad science project, but that is probably just the duo figuring things out in the current state of music. 
"There's a pretty wide array of fans that know us from different things. Some of our hardest-core Latyrx fans have seen us in the last six months," Shimura said. "They come out and support art, which has been a pleasant surprise."
Shimura spoke about the reality of the music industry's decline, which only adds to the appreciation of current support.
"It's really humbling when you think about those folks that threw down and really supported," Daumont said. "They were clear they did it because they wanted the music to be heard."
Together, Latyrx embodies a success story that seems to try to nurture its younger generation through positive lyrics and a fresh take on the current world. The message gets a little lost however in the experimental process of a few songs. 
There are certain points on "The Second Album" that might have influence on its listeners, but to truly understand what Latyrx is doing one must listen to "The Album" first. 
 Now that he has a son with his wife and vocalist, Joyo Velarde who tours with him, Shimura wants to set an example for his son so that he and others who listen to the music are not afraid to be creative and different.
"Everyday I'm just amazed that I'm able to raise a family doing this – what I love," Shimura said.
Once Latryx wraps up "The Second Album" tour next summer, Lyrics Born plans on releasing a solo project along with a follow up to his 2012 book "Yes, Bay Area."
Cesar Alexander can be reached at cesaralexander.ca@gmail.com