New student organization focuses on making Sacramento State tobacco-free campus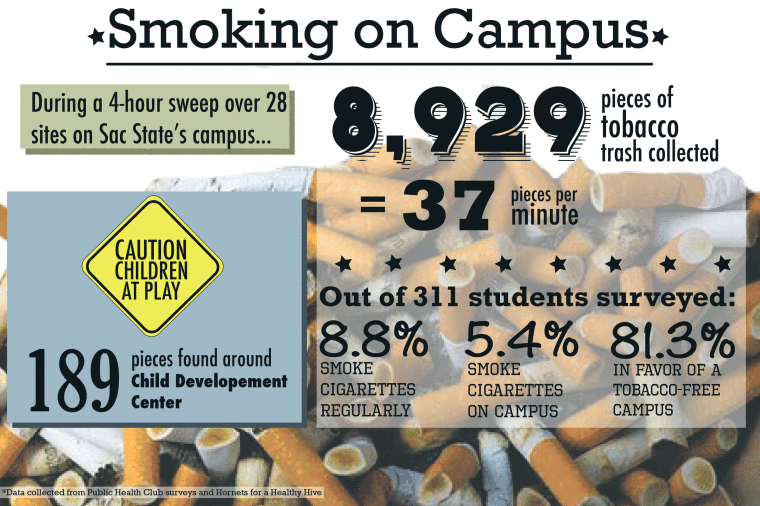 A new student-led organization took the issue of recommending a tobacco-free campus into its own hands after there had been no change from a new task force appointed by President Alexander Gonzalez to address the issue.
Hornets for a Healthy Hive was started by 70 students as a project for a communications class to campaign for a tobacco-free campus who decided student health was an important priority.
"What's exciting is that we're taking a hot topic to the next level," said Louie Sosa, a 26-year-old public relations major and spokesperson for Hornets for a Healthy Hive. "We have our own voice and we are manifesting what students have already said."
Created by Gonzalez last spring, the Campus Policy Tobacco Task Force was designed to review the current smoking policy as well as recommend potential alternatives.
The recommendation was sent over summer, but Gonzalez has not taken action thus far.
Gonzalez could not be reached for comment.
During the Spring 2013 Associated Students Inc. elections, a survey was conducted asking students if they would prefer a tobacco-free campus.
"An overwhelming majority said they wanted a tobacco-free campus. I think almost 70 percent," said ASI President Nielsen Gabriel.
Luis Kischmischian, a 28-year-old public relations major and media relations representative for Hornets for a Healthy Hive, said the organization is in support of Gonzalez.
"We're trying to a be voice for Gonzalez," Kischmischian said. "We believe Gonzalez supports this, but he needs backup from his student body. If people come after him for this we'll have enough petitions, research and data to show that students want this."
Kischmischian said the organization has conducted hours of research and created a focus group to retrieve smoking statistics from the student population.
"The research group found the data telling us where we're at with the campus and what direction we're going with the campaign," Kischmischian said.
According to the Hornets for a Healthy Hive, in a survey of 331 people, only 9 percent of students on campus are smokers. Of the 9 percent, 62 percent say they smoke on campus.
"These surveys will be held until Gonzalez makes a decision," Kischmischian said. "We want him to sign this into effect by December 4."
Gabriel said the intention of the initial efforts last year was to put the tobacco-free policy into place for the 2013-14 academic year.
"For whatever reason, they delayed the decision a bit," Gabriel said. "Most decisions don't come mid-year, so, if anything, it would come through Fall 2014."
If the policy passes, Sac State would be the first California State University to implement a completely tobacco-free campus.
"We all are headed in this direction already," Kischmischian said. "We wanted to be the first CSU in this Northern California area to set the trend to a tobacco-free campus."
Schools such as CSU Fullerton, San Francisco State and San Jose State have implemented forms of smoke-free policies that either prohibit smoking on campus or limit it to designated areas.
CSU Chancellor Timothy White has acknowledged efforts for a CSU systemwide campus smoke-free policy.
He has created a task force within the CSU Human Resources department that is working to move the university system toward being completely smoke-free.
"I'm a strong proponent of it," White said in a student press conference last month. "I understand the difficulty of doing it. I don't want it to be punitive and if I'm a smoker (I don't) want to feel like I am marginalized on campus. We want it to be an educational process."
If the tobacco-free policy does not pass, Kischmischian said efforts will continue.
"We're seeing [the initiative not passing] as the worst case scenario, but with the way we are presenting this, there is no way Gonzalez can say no," Kischmischian said. "The students are telling us that they want this campus to be a tobacco-free campus."
English major Alyssa Offenger, 22, feels differently about the potential for having a tobacco-free policy on campus.
"I wouldn't agree with it," Offenger said. "I feel that they should allow smoking on campus. We all pay to go here. "
Offenger recently quit smoking cigarettes, but said smoking on campus is a personal choice students have.
However, Kischmischian said the organization is not telling anyone to quit smoking.
"We're not trying to take away their rights," he said. "We're telling them to respectively stop doing it on our campus."