Fright Planet scares locals at Cal Expo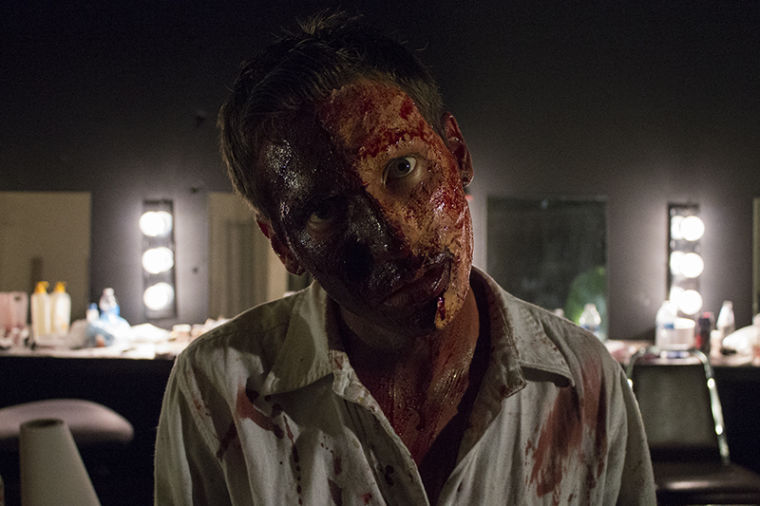 For the last three years, Fright Planet, located at Ethan Way and Exposition Boulevard, has drawn visitors during the Halloween season for jumpy haunts and screams.
The theme park, which includes 10 attractions such as Alice's Nightmare in 3D and a simulator for getting buried alive, is designed to materialize the visitor's fears.
Show manager Jason Green said the actors are trained to scare people with a variety of fears.
"We kinda try to cater across the board to different people," Green said. "One thing that might scare one person may not scare another."
Green has worked with Fright Planet for four years and said having numerous haunted attractions means something will freak people out.
"I guarantee I'll find one haunt that scares you," Green said.
The attractions feature elements meant to create a nerve-racking atmosphere such as strobe lights, dense fog and characters jumping out of hidden doors.
Green said owners, Carlos and Krystee Schollar come up with concepts for the theme park and it takes a while to have the ideas come to fruition.
"The funny thing is, Krystee is terrified of horror films and doesn't watch them, yet they own a haunted theme park," Green said.
Although the ideas for the attractions take time to perfect, actors from all around come in to to volunteer to scare people for fun.
Cast members vary in age and require no acting experience except for one night of scare school that will teach the skills of how to frighten guests at the theme park.
Tim Marshall, 19, has been volunteering at the haunted theme park for three years and said he's happy to be a part of Fright Planet because it has helped him come out of his shell.
"I love it and I look forward to it every year," Marshall said. "(We're) a family here and it's a fun thing to do. I have a passion to do this."
Marshall said his character, who carries a doll, had a surprising reaction from one visitor.
"Last year, there was a little boy that came through and he was an autistic boy who fell in love with the doll," Marshall said. "We went through all the haunts, helped him out and made his way through because he wouldn't go through it without the doll. He came back again for him this year and borrowed me for ice cream."
Kelsie Tennyson, 24, said his favorite part of scaring the visitors is seeing their reactions.
"It's getting the amusement of scaring people and being somebody's worst nightmare," Tennyson said. "It's also being able to frighten people and running around and just enjoying being out here and socializing with people."
Although Fright Planet cast members are not allowed to touch visitors, they find other ways to make them jump as they walk through the park.
Sixteen-year-old Matthew Nielsen said haunted houses terrify him because it's a physical fear that is right in front of him.
Nielsen said the part that scares him is cast members being in his personal bubble.
"I know they can't touch me, but I still freak out," he said. "I'm a very jumpy person."
Green said despite the cast members' limited acting experiences, they do well by not only getting into character really well, but are able to handle potential issues, such as frightened visitors hitting them.
"The actors are troopers," Green said. "They know stuff can happen and they get right back out there and know what to do."
Although Fright Planet comes out every year during the Halloween season, Green said working there and having a common joy in scaring people has secured some bonds after the park closes in November.
"It's fun to scare people and our cast is pretty family-oriented," Green said. "We all stick together throughout the year. We make a pretty good team working together. It's a good time."
Camille Anglo can be reached at [email protected]