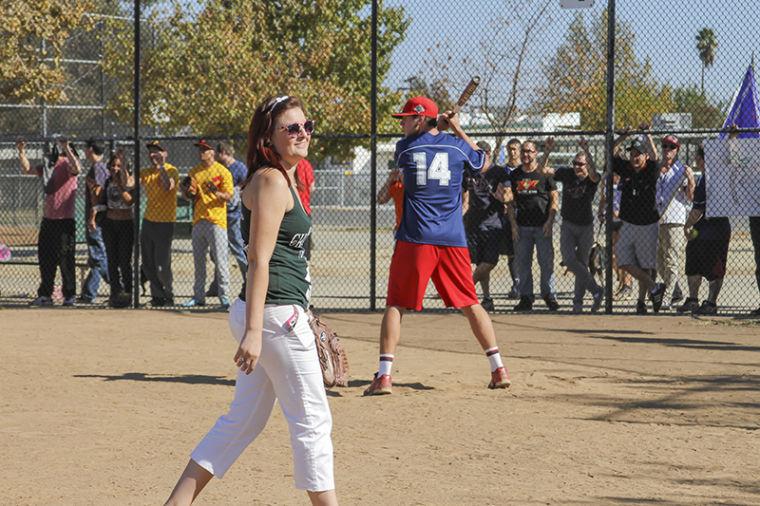 Sacramento State sorority Chi Delta is working to prove that small organizations can accomplish big things.
For more than 20 years, Chi Delta has worked in partnership with Habitat For Humanity by helping to raise funds for the organization as well as participating in building some of the houses.
Chi Delta member and sophomore nursing major Yashawna Rozier, 22, said the sorority raises money for the charity with events throughout the year culminating with Grandslam.
"The Grandslam is the final fundraiser and everything we've raised from the beginning of the semester to now already went straight to Habitat for Humanity. Everything goes to them," Rozier said.
The Grandslam is an annual softball tournament the sorority hosts that pits 12 teams consisting of on-campus fraternities against each other.
Fraternities such as Pi Kappa Alpha, Sigma Delta Alpha and Delta Chi participated in the tournament while the Phi Sigma Sigma sorority competed with the other fraternities for the first time this year.
Senior criminal justice and Grandslam co-chair Erys Melendez, 21, said the event serves as a reminder that no matter how big or small the contribution and every bit counts.
Chi Delta raised $1,704 for Habitat for Humanity this semester.
"Even though the most we raised in the last six years was $6,000, it still helps," Melendez said.
Not only has the Grandslam helped raise money for Habitat for Humanity, but the sorority worked with fellow Greek organizations on campus such as Pi Kappa Phi and Sigma Phi Epsilon doing such events as the recycling drive during Greek week in April.
During the drive, Chi Delta worked with all of the other Greek organizations to collect more than 2,000 pounds of recyclables, said recreational parks and tourism major Abbi Carter, 21.
"Our own chapter raised about 700 pounds," she said.
Chi Delta member and English major, senior Kayla Cole, 22, said working with Habitat for Humanity is great because it benefits both parties since they are both working to benefit the community.
Cole said she credits the long lasting partnership with the charity to the fact that all parties involved actively work together towards a greater good.
"[Habitat For Humanity] is accommodating and enthusiastic," Cole said. "[It's] a really good group of people trying to do amazing things."
According to Chi Delta's website, the sorority formerly known as Chi Delphia started as a little sister program, or a female group affiliated with a fraternity, to the Delta Chi fraternity in 1966. However, after the little sister programs were cut in 1990, the chapter stationed on campus segued into a local sorority.
Chi Delta hosts less than 30 active members. Although its presence is not as well-known as other Greek organizations that have multiple chapters on other college campuses, many of the girls appreciate having a smaller organization, Rozier said.
"Because we are local, we have that community that brings us together," Rozier said.
Delta Chi member and senior kinesiology major Walter Chun, 22, said he respects the sorority's ability to give back to the public.
"It's really great because they focus on helping Habitat for Humanity and a lot of them have common goals for community service and they try to promote community service throughout all the Greek organizations," Chun said.
As far as the sorority's own legacy is concerned, they just hope to continue to be a strong influence on the Sac State campus after leaving.
"It would be nice to come back in ten years and see you're still an active presence," Cole said.
Kevin Hendricks can be reached at [email protected]