Women's volleyball loses in Championship game of Sacramento State Invitational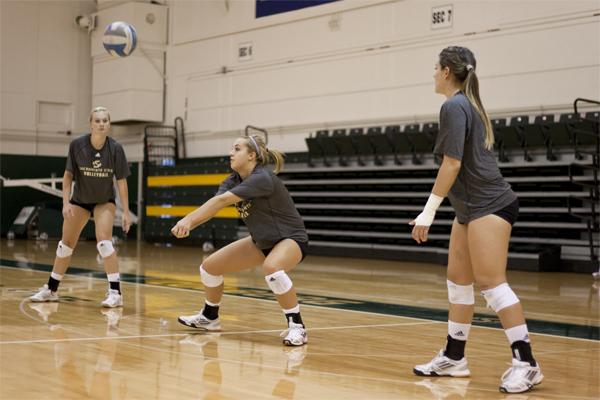 Sacramento State volleyball dropped the championship game of the Sacramento State Invitational Tournament in five sets against Cal Poly, 25-19, 15-25, 23-25, 25-21, 3-15 to Cal Poly on Saturday at Colberg Court.  
The Hornets defeated Central Connecticut earlier in the afternoon in four sets  25-22, 23-25, 25-9,  25-20 to advance to the finals.
With the loss, the Hornets finished the tournament with a 1-2 record and are now 5-2 for the season.
Sacramento State were down two sets to one when the Hornets bounced back in the fourth and sent the match to a decisive fifth set.
Cal Poly jumped on the Hornets quickly and cruised in the fifth set to the tune of 15-3. Senior outside hitter Chelsea Hardin led the way for the Mustangs with 18 kills.
The Hornets were held to 46 kills after tallying 60 against Central Connecticut in the semi-final match. The team finished with a .184 hitting percentage in comparison to Cal Poly's .264.
Senior right side hitter Kayla Beal led the Hornets in kills with 14, while sophomore outside hitter Sloan Lovett followed suit with 11.
Sophomore outside hitter Lauren Aikels put together a solid performance, compiling 9 kills while committing no errors. "It felt great, it was a lot of fun to play on the court with my team," Aikels said.  
However, the team finished with 20 total errors, a number of which were a result of poor passing.  
"I feel like we played aggressive all around, but our passing was out of synch, and when we didn't pass well, every other skill just kind of went downhill from there," Beal said. "It was a really tough match, that we just couldn't pull out in the end."  
Head coach Ruben Volta felt his team could have executed better on offense. "I think we had problems on serve-receive, and just not passing the ball well enough to run our offense," he said.
Even though the Hornets weren't able to secure the tournament title, Coach Volta said he was proud of the way his players competed throughout the tournament.
"Our level of play got better and the speed of our game got better," Volta said. "I certainly think we attacked well all weekend, we just have to be better on serve-receive."
The Hornets will look to regroup when they hit the road for a matchup against UC Davis.
"With Davis coming up I know we're going to come out with a lot of energy and a lot of fight," Aikels said. "That's obviously our rival, so we're going to work really hard for that game."
"We just need to stay mentally tough, and we can't afford to let them come out strong against us," Beal said.
The Hornets will face off against the Aggies in Causeway Cup action on Tuesday, Sept. 10. The match is scheduled to begin at 7 p.m.