Women's golf team loaded with experience aims for Big Sky crown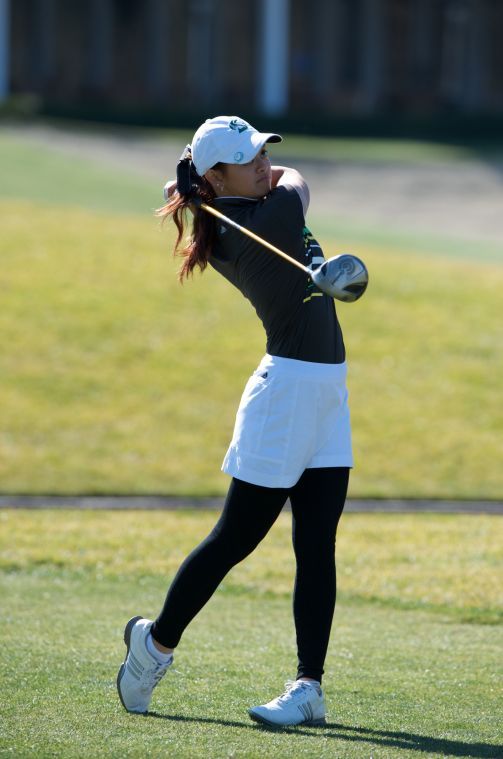 Sacramento State women's golf officially started its season with the team's first practice Wednesday in preparation for the WSU Cougar Cup in Pullman, Wash.
Head coach David Sutherland is optimistic about how the fall and spring seasons will go for the Hornets.
"We are going to have a great team this season and our expectations this year is to win conference," Sutherland said. "This has to be the best team that I have had here at Sac State."
Sac State only lost one player, Kercia Brakel, from last year's team that finished fourth place team in the Big Sky Conference. However, Sutherland was able to have a talented freshman Chloe Bartek commit during last season.
"I believe (Bartek) will be a great addition to an already deep team we have here at Sac State," Sutherland said.
Even with last season's finish in the Big Sky, there was still a lot of individual successes.
Junior Sagee Palavivatana had a solid sophomore campaign in which she became the No. 1 player on the traveling squad.
Palavivatana finished in the top 30 in five tournaments last season, including a top-five finish at the Folino Invitational last spring.
Palavivatana said after a strong  sophomore campaign, her confidence in the team and herself has increased a lot going into this year.
"I am confident that my team and myself will be even better and stronger this season than last season," Palavivatana. "Because we have a lot of talented girls on this year's team."
Palavivatana qualified for the US Amateur Women's Public Links tournament over the summer, which was held in Norman, Okla.
Palavivatana also qualified at the Reserve at Spanos Park in Stockton when the junior shot a 79 and followed it up by shooting 1-under-par, 73-72 in the 36 hole County Women's Championship at Ancil Hoffman Golf Course in Carmichael.
Her offseason performance gave Palavivatana a reason to feel confident going into this season.      
"The competition was good and fun this summer," Palavivatana said. "I was able to compete against some of the same girls I saw during last season."
Sutherland is certain Palavivatana's success last season was and will not be a fluke. Sutherland believes Palavivatana will be a great leader for a team filled with talent.
"(Palavivatana) will be a consistent (No. 1) player for our traveling roster," Sutherland said. " We also have eight players that can play well on the five man traveling roster."
 Many of the girls on the team spent time during the summer playing in tournaments on their own, including sophomore Natalie Bodnar. Sutherland saw Bodnar play in a recent tournament during the summer break in Truckee, Calif.
Bodnar was a standout golfer for the Hornets during her freshman season in which she placed in the top 30 twice, one of them being a 19th place finish at the Firestone Invitational in Nipomo, Calif. She also placed 25th in Santa Ana at the Anteater Invitational .
After looking back on last season and how things finished up for his team, Sutherland believes that a team that plays together will win together.
"We need to have a consistent season from all of our players in order for us to have a successful fall and spring season," Sutherland said.
Sac State will tee off the season Sept. 23 in the two-day tournament at Palouse Ridge Golf Course.
You can reach Clifton Jones at @JonesSHsports on Twitter.