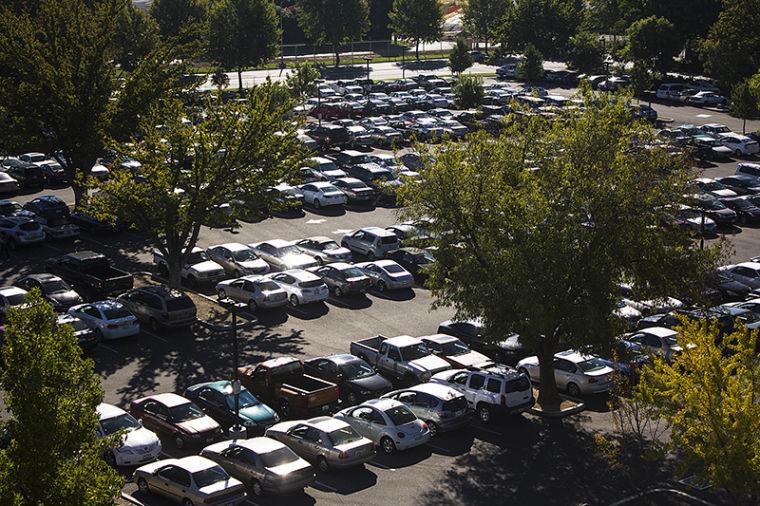 The Sacramento State Police Department met with University Transportation and Services Friday to discuss possible solutions to traffic congestion due to an "unprecedented number of cars."
Police Chief Mark Iwasa said numerous people are complaining about the long lines of traffic in the morning, likely related to Sac State's 8,000 new students.
"[Students] are trying to enter parking structures that are full and then have to go somewhere else (and) find out that one is full," Iwasa said. "We're going to try and make it easier on them."
Iwasa said most students attempt to park in Parking Structures I and II. They are the two closest parking structures to the main educational halls, but typically fill up early in the morning.
"It's not just us waving [students] through intersections," Iwasa said. "They are actually getting through the intersections pretty well, but then they are bogging down our campus roadways and there's just nowhere for them to go."
UTAPS Director Tony Lucas said the combination of students looking for parking spaces, added to the large number of students already in parking areas, are among the reasons for roadway congestion.
"It's that combination of students coming into campus and students having missed a place to park and continuing to search for a place which is causing a lot of our backlog," Lucas said.
Both Iwasa and Lucas said there are many open spaces in the other lots, farther away from the center of campus.
The police are also working with UTAPS to advise students when a parking structure is full so they can be rerouted to other lots.
UTAPS and Public Affairs have talked to further publicize its Sac State UTAPS Facebook page, which contains multiple daily updates and statistics regarding parking availability.
Lucas said the goal is to let students know the campus parking situation so they can plan their route accordingly. He also said he hopes students will not drive by an open parking space.
"The sooner you park, the sooner you get off the street, the less traffic congestion we have on campus," Lucas said.
According to the Sacramento State police log, as of Saturday, there have been five reported traffic accidents and 10 hit-and-runs with property damaged since the semester began.
Iwasa said students are arriving back to their vehicles and finding damage. Hitting a parked car is not a crime, but fleeing the scene is.
"People are somewhat frustrated with congestion, frustrated with their class schedule," Iwasa said. "They are very on edge early in the semester. They are not yet settled."
Rachel Chaudoir, a 19-year-old apparel marketing and design major, said she likes to park in parking structures because its shaded and closer to her classrooms.
"It's been really tough (to find parking)," Chaudoir said. "It takes at least a half hour or 20 minutes to find parking every day – especially Tuesdays and Thursdays."
Chaudoir said this is her first semester parking on campus and while she has no problem parking in the mornings, parking is worse later in the afternoon.
Biological sciences major Brittany Dykes, 19, said she likes the parking structures because they are closer to her classes.
"If I came later in the day and the parking structure was full, I will park in the lots," Dykes said. "It's not preferred (but) it is what it is."